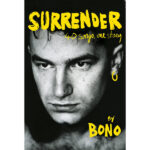 by Bono, 2022
Loved this book by Bono, the lead singer of U2. I tagged just about every page of the book, so Wayne bought me the book. I had a wrong impression of U2 when I was a young adult. I thought they were evil. But it turns out, they are a rock band who really love and follow Jesus.
He grew up in Dublin, Ireland. He lost his Mom, Iris, from a brain aneurysm (I think), which runs in their family, when he was 14. It devastated him. He was left with his Dad ("Da") and his older brother, Norman, in a house he filled with anger and rage. His mom was Protestant and his Dad was Catholic. He met his would-be wife (Ali Stewart) when he was 13 and married her at age 22, and they are still married. He joined his band at the age of 16. He learned about Jesus early on with his friend, Guggi. Larry Mullen, Jr., the drummer, was the one who started the band. The four boys have been together ever since. Adam Clayton, the bass player, was the only non-believer in the beginning. Edge and Bono and Larry were believers. They would pray after shows in the early days – sounds like for hours.
Bono's name came from Guggi, his best friend since he was three. Bono's real name is Paul Hewson.
He writes about his life through 40 different songs. One of my favorite songs is "Bad." I never would have guessed it, but it is about his friend, Guggi's, little brother Andrew and his addiction to heroin. In 1974, Andrew was with his Dad in their car when a car bomb went off near the record store that Bono would have been in had he not ridden his bike to school that day. Little Andrew had to watch through the car window while his dad helped clear the streets of the carnage. The young boy, Andrew, kept a piece of the shrapnel from the original car bomb. He became a heroin addict by the age of twenty. "I wrote our song "Bad" about Andrew." (Page 26)
Adam Clayton was the one that may have gone down that road–for certain, alcohol and other drugs. One time he didn't show up for a show in Australia. He had almost died. He joined AA and gives his life to God and is still with us, happily married with children.
Bono marries Ali early on and they have children – 2 girls first: Jordan (after the Jordan River) and Eve (there are a lot of sevens associated with her and Eve is the center of seven). Then after many years, 2 sons – Elijah and then John.
They love to vacation in the south of France, but they live in Ireland in a house called Temple Hill, in Dublin, overlooking the sea.
He and Ali visited Ethiopia early on in their married life and it planted a seed in Bono, to help right the wrongs in this world. He has used his fame and fortune for good. You rock, Bono! Thank you for living your faith. May you be blessed forever!
Here are some parts of the book I don't want to forget:
This one is for Chris, from page 7. When Bono's dad is in the hospital dying of cancer, Bono is by his bedside and his dad yells, "FUCK OFF!" as Bono is leaning over him trying to understand something he just said. "I don't believe he was telling me or the very vigilant night nurse to fuck off. I'd like to believe he was addressing the monkey that had been on his back for a large part of his life. He had told me in those final days that when accepting his cancers, he'd lost his faith, but he also told me that I should never lose mine. That it was the most interesting thing about me. Emboldened, I read to him from a psalm of King David, Psalm 32."
Pg. 8-9, Spring 2015, "As we do before every show, we pray. "Sometimes it can feel as if we're strangers, praying to find the intimacy of a band that could be useful to our audience this evening. Useful? To music. To some higher purpose. In some strangely familiar way we are changed. We begin our prayers as comrades; we end them as friends finding a different image of ourselves, as well as the audience we're about to meet, who will change us again.
"To be useful is a curious prayer. Unromantic. A little dull even, but it's at the heart of who we are and why we're still here as a band. Men who met as boys. Men who have broken the promise that's at the very heart of rock 'n' roll, which is that you can have the world but in return the world will have you."
He was born May 10, 1960. The musicians who shaped him were The Ramones, The Clash, Patti Smith. But it started with The Who, Bob Dylan, and David Bowie. On May 10, 1978, he writes his "first proper rock 'n' roll song and U2's first single…But without Edge, Adam, and Larry–my own miraculous brothers–no one would ever have heard it." It's called, "Out of Control."
His Da loved opera and had a beautiful voice – he used to tell Bono that Bono 'was a baritone who thinks he was a tenor' as a put-down. Bono thinks his own anger issues were from blaming his Da for the death of his mother. He writes on page 37 about the song, Cedarwood Road (the street he grew up on in Dublin): "You can see the through line of this melodrama. Son blames father for the loss of his mother and the ending of his home life. The young buck takes on the old buck.
"Patricide. The stuff of the great operas. U2's music was never really rock 'n' roll. Under its contemporary skin it's opera–a big music, big emotions unlocked in the pop music of the day.
"A tenor out front who won't accept he's a baritone. A small man singing giant songs."
Here's how he got the name, "Bono:" (page 44-45) "I've been best friends with Derek Rowen, or Guggi, since I was three years old and he was four, this despite his claim that he befriended me only because we had a swing in our back garden.
"Guggi not only gave me the name Bono; he gave everyone in his family new and surreal names…
"Little Biddy One-Way Street, his second sister, then Hawkeye and finally Radar, his youngest brother, who appeared on the cover of two of U2's early albums, Boy and War…"
"Bono was short for Bono Vox of O'Connell Street, but the boy Guggi was no Latin scholar. "Strong Voice" was an accidental translation. Bonavox was a hearing aid shop in Dublin. He just loved the noise the name made in his mouth. Gradually, Bono Vox of O'Connell Street got shortened to Bonmarie and then to Bono. Previously I had been Steinvich von Heischen, and I was grateful when that phase passed. I called the boy from number 5 Guggi because that's what his head looked like to me, if you tried to represent it in sound. A sound painting. Say "Guggi" and look at him and you'll see what I'm talking about. Perhaps."
These Rowans lived five doors down. There were 10 children. Bono has written three songs about Andrew Rowen: "Running to Stand Still," "Bad," and "Raised by Wolves."
Guggi was the one who taught him to share everything with everyone and that God might be interested in the details of our lives. From page 47: "Guggi introduced me to the idea that God might be interested in the details of each of our lives, a concept that was going to get me through my boyhood. And my manhood. (The idea that there is a God, I now recognize, is preposterous for many people. Still more that such omnipotence, if it existed, might be interested in a teenage boy's growing pains.)"
He went to church with Guggi and family and to YMCA meetings on Sunday evenings. He fell in love with the Bible: "But listening to the speakers at these meetings, I was further attracted to the God of the scriptures that they read from. I wasn't sure I'd ever encountered such a presence in our lovely little Church of Ireland in St. Canice's. I had met and briefly dated the clergyman's lovely daughter, so maybe I was distracted. I did have a sense of the divine, but it was inchoate and formless, so when I started to uncover clues about the nature of this presence, I was fascinated. The Bible held me rapt. The words stepped off the page and followed me home. I found more than poetry in the Gothic King James script.
"Soon I started to enjoy a modern translation, The Good News Bible, which I discovered when I accompanied Guggi on a YMCA Christian summer camp in Criccieth, on the Llyn Peninsula in North Wales…."
"I'd always be first up when there was an altar call, the "come to Jesus" moment. I still am. If I was in a cafe right now and someone said, "Stand up if you're ready to give your life to Jesus," I'd be the first to my feet. I took Jesus with me everywhere and I still do. I've never left Jesus out of the most banal or profane actions of my life."
As teenagers, they used to take out their anger fighting each other and other boys until Bono discovered music and Guggi discovered art. They became friends with other boys who were into music and two bands came from it: the Virgin Prunes, with Guggi; and U2. From page 52: "Two musical groups who were a reverse image of each other. If they raised hell, we were digging for heaven."
In September, 1973, he starts his 2nd year at Mount Temple, aged 13. He meets Ali and her friend. He writes on page 56: "I have no hint of that on this first encounter, but something has me enchanted." He didn't think she was his type. She was dressed in "an orange sweater that must have been knit by her mother, a tartan skirt, and Wellington boots. Who dresses like that?"
"It took a few terms, but eventually I asked Alison – Ali, she prefers – to our youth club in St. Canice's parish."
"Another Friday night, not long after, under a concrete awning on the school playground, when I first kissed Alison Stewart. Pure joy. If slightly desperate."
Two years later, at age 16, he decides to ask her out on a real date. Also at age 16, he answers the invitation: "Drummer seeks musicians to form band." That is drummer, Larry Mullen, Jr. They meet up in his kitchen. Also in the kitchen was Adam Clayton on bass, and David Evans on the guitar. David Evans was 15, a year younger than Bono, but very smart and very talented. He could play anything on the guitar. The first time Bono heard him play, he was playing Yes's Close to the Edge, which involved "those bell-like notes he would later make famous."
"Edge has enough musical theory to guess, but in truth he is feeling his way through the musical scale, looking for notes, for a particular order of notes that other people haven't used. Looking for the space between them, the gaps in between notes. Looking to pare down everything to the most minimal expression."
Adam and Edge were best friends as children and Adam was sent away to a boarding school. "Music is all he ever wanted to do…The only problem was that he couldn't play. This was no automatic disqualification. . .at the time I couldn't really sing. But Adam had a kind of musical dyslexia where he could play the most sophisticated parts or the most simple but not so much in between. This unusual combination meant the normal discussion between bass, drums, and guitar could be a little random and stressful in a rehearsal situation. The Edge, the most musically gifted of any of us, covered the cracks. He desperately wanted his childhood friend to be his teenage bandmate."
Adam was the one who believed in the band from the get-go. He was the one who found the guy who gave them their name, U2. They first were called, The Hype. The guy who gave them their name was Steve Averill, the singer for The Radiators from Space. And he just picked out U2 from the headlines of the day. So, the band U2 was formed. They practiced in the school music room. They wrote songs together – Adam had lyrics and Bono had melodies in his head and when they wrote songs together, it worked.
The year 1976 was when the band U2 was formed and also when he asked Ali out for a real date. "Nothing would ever be the same." Song for Someone is the name of that chapter.
He and Ali join a radical Christian group called Shalom.
Twenty years later, he's sitting in a Dublin bar near the waterfront getting interviewed by Jon, a music critic for The New York Times, when two tough-looking guys come in and start talking to Bono. They ask if he remembers when his Da's house on 10 Cedarwood Road was getting broke into a lot – things stolen like a leather jacket, stereo, TV, reel-to-reel tapes, a guitar, a tea-kettle. Bono remembers and is getting really angry. They say – "You know, we never made a mess?" "We never smashed up your da's place, and on a point of fact on one occasion we made a cup o'tea and we fuckin' cleaned up. Washed and dried the fuckin' cups. But we robbed the fuckin' kettle… hahahaha!" Bono asks him, "What was that about?"…"We knew your da wasn't stuck. He had you. Am I right? Did you get that? We never made a mess; we didn't want to be robbers. We were just junkies who needed a bag. That simple."
"I looked at Jon, who was looking at his Aiwa recorder, no longer a critic, but a reporter of a crime, albeit one twenty years old."
"If you're where you should be, you'll meet whom you need to meet."
In 11 O'Clock Tick Tock, he writes about how Ali saved him from himself. He had discovered friendship early on with Guggi, and now his best friend was Ali. They were in London together trying to get a record deal. They took the trip together and spent the night in Paddington Station. "Slowly but surely, after Iris's death, Ali had become my companion. We weren't always sure who was leading whom, but we felt that the Spirit was with us and would lead us if we were open to the possibility." They bring demo tapes around and the man that would become their manager, Paul McGuinness, takes them on and they owe much of their success to him. Their first negotiation was that he would be paid 20% after expenses, the same as each of them.
They played their first "stadium" – the National Stadium (a boxing arena that holds maybe 1,200) on February 26, 1980. And the A & R man was there and loved it, Nick Stewart. He had come thinking they were an unknown teenage band playing a stadium. When he found out it was just a boxing arena, he was already there and, after witnessing their show, loved them and gave them a record contract with Island Records.
Page 118: "I hadn't done drugs since sniffing Lady Esquire shoe polish when I was fifteen. I didn't need to. I felt the pinch of wonder. I felt everything sharply, the people we met, the sensation of being in a body, of eating or drinking…
"And the beautiful searching eyes of our audience. Every night, the show…
Pg. 119: "You'd have to feel sorry for Adam, back at the flat or the hotel. All a man wants to do is live the dream of four strings, but there's his three bandmates huddled together in their rooms, agonizing over whether this dream is a vision we share. Three apprentice zealots, locked away in prayer and meditation rather than banging out a mix tape…"
From Page 129, describing their first tour of America that started in March, 1981:
"New Orleans, an overripe fruit just turning, the noble rot, the grand oaks, the dribbling humidity.
"Arizona, what parched land to build on, what unreasonable sun to build under.
"Marvelous, meaning utterly a marvel. American endeavor building towers of steel and glass out of melted sand.
"Texas, a flat continent of freeways and fields, cities poking their heads out of black sticky ground. Black gold and white privilege standing over it, still struggling to be free from race and Civil War politics. The Bible Belt and its unchristian undertow leaving welts on the bare bottoms of unbelievers.
"The forked lightning of Dallas and Houston, the dust storm and intellectual static of Fort Worth, the bohemia of Austin.
"Nashville, the buckle of the Bible Belt where songs of praise live in the office next door to songs of redneck braggadocio, so Irish it feels too familiar."
When they first become famous, "Shalom, the house church community that meant so much to Larry, Edge, and me, was worried we were falling away from our faith.
"I explained to our pastor, Chris Rowe, and his wife, Lillian, that things were better now, that our little church group would not need to worry about funds in the future. We would be able to provide.
"It's the Lord who provides," he reminded me. It was a warning shot. There was more to come." (from page 131)
From page 133, he is talking about his anger management issues: "At a show on the Boy Tour in New Haven, Connecticut, I had completely lost it to the point where I actually lifted up Larry's drum kit and threw it into the crowd. Adam and Larry sought cover, but Edge held his ground, and as I ran toward them, he caught me with one on the side of the head. That slowed me right down."
"No sooner had Edge hit me than he was apologizing. Of course. This is the mark of the man. He's always been like that. He couldn't bear a grudge."
Edge was influenced by his hymn-singing parents. And hymns stirred the soul of Bono: Charles Wesley, Isaac Watts, and John Newton.
He says the faith he, Edge, and Larry had, but Adam and Paul (their manager) didn't have caused some turmoil. People of faith can be a "pain in the arse." But his faith was strong. He had some really good teachers when he was in his early teens. And the Spirit was moving in Ireland in the 1970s.
From page 138: "Sophie Shirley, these other teachers, and maybe sixty students in this nondenominational school, all of us finding an interest in the Jesus of the Bible we'd rarely read about but who seemed to show up when we showed up. When we met, we sang simple songs and offered prayers for peace in our country, and it felt as if something was stirring. In our souls, our school, our country. And in that same music room another kind of ecstatic music was being born."
The first time the band almost breaks up, it's because Edge is feeling like God doesn't want him to be in a band – that he should be a missionary or something. He even tells Bono that he's out. They go meet with Paul McGuinness, their atheist manager, and he asks them if God would have them break a legal contract. They decide that God would not have them do that, and huge relief, U2 stays together.
He marries Ali on August 31, 1982. He's 22 and she is 21. Edge starts righting "Sunday, Bloody Sunday" without Bono, while he and Ali are on their honeymoon in Jamaica. Bono starts writing songs, too. Edge wanted to write a song about "the Troubles" in Northern Ireland. It's about January 30, 1972, and what happened between the British army and peaceful Irish protesters.
From page 169, they are giving a concert at Red Rocks (in the early 1980s, I think): "As Edge played his plaintive arpeggiation in the rain and Larry rat-a-tat-tatted, I spewed, "This is not a rebel song!" with all the self-righteousness I could muster.
"What it lacked in eloquence it made up for in brevity. It seemed the right moment to get the word out that we were not prepared to have our song co-opted to further continue the suffering of innocents like those who lost their lives or their loved ones on that dark January day."
"That version took us to the top of the album charts with the live LP Under a Blood Red Sky and to the top of the shit list for all [Irish] republican sympathizers. Things would never be quite the same for us at home."
The Irish Republicans are angry at them and threaten them, hinting at kidnappings, most likely of Ali.
From page 171: "The band's deep hope is that Ireland will, by peaceful and democratic means, one day become a united Ireland again. Ironically we think the biggest obstacle to that end is the weaponizing of grievances by paramilitaries."
They convinced Brian Eno to produce the album that "Bad" is on, The Unforgettable Fire. Brian Eno and Danny Lanois together produced many of their albums. "Bad" is considered by many their finest song. It is unfinished, because Brian Eno likes unfinished lyrics. "I realize it is an impossibility to conjure the confused mood around intravenous drug taking, specifically heroin. Guggi's younger brother Andrew "Guck Pants Delaney" Rowen was on my mind as I splashed/smeared paint on the canvas. Impressionism, expressionism, over-reachism. It's an impertinence to imagine I could step into Guck Pants's shoes, but that's what I was doing. A conscious and unconscious attempt at empathy, it was a conversation with someone who was not there. It would be years before that could happen. Andy was impossible not to love–although a ghost looking for his body back. His family and friends were terrified of losing him to this epidemic of opiate abuse that was the scourge of so many cities and suburbs in the early '80s. But few ties are as binding as addiction. I tried. I failed. "Inarticulate speech of the heart" is what Van Morrison called such poesy."
In July 1984, they are making The Unforgettable Fire and Bob Dylan shows up. Bono loves Bob Dylan! Bob Dylan is doing a show in Ireland at a castle overlooking the River Boyne. He asks Bono and Carlos Santana to come up on stage. Bono sings "Blowin' in the Wind," but changes the lyrics. The fans get angry at him. Bob Dylan says he changes lyrics all the time. I wonder if that's on You Tube.
I could go on and on but I'd just be rewriting the book. I will try to get down the things I remember. He started caring deeply about the poor when he and Ali went to Ethiopia, Autumn of 1985 during the Ethiopian famine. The first major philanthropic thing he did was Jubilee 2000. He worked with Bill Clinton and then every president except for one. Guess which one that would be? Yep.
He really wanted to go a different direction musically when they made the album, Achtung Baby. It was tortuous and they almost broke up, but they stuck with it and it's one of the finest albums they made.
His older brother, Norman, calls him one day and says Guess What!?! Bono knows what he is going to say – our cousin is our brother. Somehow he knew this. Their father had an affair with their aunt – their mom's brother's wife. Bono had to work through a lot of anger at his father. When his father died, he finally could sing a perfect tenor.
They love the south of France and early on they vacationed there a lot and met up with the INXS band leader, Michael Hutchence, and his love interest, Helena. It broke their hearts when Michael Hutchence left her for another woman, became a drug addict. Then he died by suicide.
Bono has worked with presidents and also with almost every world leader: Desmond Tutu, Nelson Mandela, Steve Jobs, Bill and Melinda Gates, Warren Buffett.
He writes about a Messiah complex and he definitely understood early on that was not what he wanted to be about. His saying that Wayne has as his email tag line – "It's not about charity, it's about justice," came from Nelson Mandela.
He and Ali visit Central America when the Nicaragua and El Salvador war was going on. They went with an organization: Central American Mission Partners. They see things and learn things that are deeply affecting. The song, Bullet the Blue Sky, on the Joshua Tree album in 1987 came of that and they've been pretty much against US foreign policy ever since. "Bullies have run the world since we had one…And the bully can take on many faces. From the obvious villains like Putin or Stalin purging Russians who wore spectacles because people who read books were a threat to him, or Chairman Mao outlawing colored birds and flowers because they were decadent. To our western war winners who were dropping the atom bomb on Nagasaki or carpet bombing Dresden when the war was over, and in my lifetime secretly firebombing Cambodia to not win the Vietnam War. And closer to home paramilitary atrocities planned to protest regular military atrocities.
"But there is another kind of bully. Circumstance.
"Where sentient beings like me or you can't find their life because they can't find food."
He is angered by Christians who care more about what's happening in other people's pants than in helping the poor. He knows there are 2003 verses in the Bible relating to helping the poor. "Wembley Stadium, July 1985. Live Aid." Here's how he can help the poor. "If it was charity that had brought me and Ali to Ethiopia, fifteen years later it was justice that would send me back. The Drop the Debt campaign would return me to a geography where I had to unlearn so much of what I thought about "poverty."" "Where the Streets Have No Name" is the song that comes out of his trip to Ethiopia. Edge wrote the music, Bono the lyrics. "We must have played it a thousand times, and no matter how shite a show, how off form the band or, more likely, the singer, to this day when we play "Streets," it's as if God walks through the room."
He was always considering how he and Ali's marriage was working. He knew he needed more work than she. He loved her and still loves her. They have been a team and she learned early on how to share him with the 3 other band members and then the world. Once he forgot her birthday and he wrote a song, "Sweetest Thing," for her as an apology. She gave all the proceeds to Chernobyl Children International. Ali remains vehemently anti-nuclear but Bono has come around to nuclear power after conversations with Bill Gates. He is convinced that we can't get to zero carbon emissions without it.
They wrote "One Tree Hill" for a friend of Guggi's, Greg Carroll, who died in a motorcycle accident in Ireland. They brought his body back to New Zealand and honored him in the Maori way. He wants to write a true love song, but he and Ali's love is not threatened: "Yes, there was the occasional electrical storm blowing in from wherever but nothing more threatening than the tension caused by Ali and me wanting to be the best we could be for each other but fearing we couldn't."
He said she could not be known – she would always be a mystery. So, he wrote "With or Without You" "that at least captured some of her dark beauty." It's patterned after Roy Orbison, Suicide's "Cheree," and Harry Nilsson's "Without You." It was an "ugly pop song" and they abandoned it, but thankfully, Gavin Friday pulled it out and told them how to fix it and it became one of their most famous songs.
In Los Angeles in 1988 they start to live it up, enjoying their fame and their rock and roll lifestyle. That's where they meet Michael Hutchence of INXS. They meet Quincy Jones, who they had beat out of a Grammy with The Joshua Tree over his Michael Jackson's Bad. He teaches them to not be afraid of parenthood. Jordan Joy Iris Still Water Hewson was born on his birthday, May 10, in 1989. "And at just five pounds five ounces, what a delicate gift. We named her after the river Jordan, the river of the gospel song, where the sweet chariot swings low, and a band of angels are coming for to carry me home."
Then, Eve was born in July 1991 at their home in Ireland, Temple Hill. "She was born at seven fifty-nine on the seventh day of the seventh month, so we called her Eve because "Eve" is at the center of "seven." They learned from Gay Byrne, a famous talk show host in Ireland, to be useful. "That was his modus, it always seemed to me, a modus that became a prayer in our family. Simple. Direct. Make us useful, dear God. We're available. How can we be useful in this world where we find ourselves?"
On page 241, he writes: "We who love what we do, and would do it for free, should never forget that we are 1 percent of the 1 percent of people who have ever lived. In history we hardly exist. To be this free of financial worry is the gift our audience gave to our band…Worlds have come crashing around the ears of more talented people than me, but since success first arrived for this band in the late 1980s, freedom has been our story and the story of our families. We owe a lot of that to you, whoever you are, reading this book."
But then in the 1990s they discovered a gang leader in Dublin was planning to kidnap their girls. "That was the kind of news that messed with your sleep patterns."
The band visited with President Zelenskyy of Ukraine. They've witnessed first-hand what Putin is doing. They know the lies he is telling, that are being believed by African countries desperate for Ukraine's grain, which Russia is keeping from them. They see President Zelenskyy trying to get the grain out to those countries.
In January 2002, Mikhail Gorbachev drops by their house in Ireland (Temple Hill), surprising Ali. She grills him on nuclear power and warheads and then their young god-daughter, Anna, who was born with deformities because of Chernobyl, shows up and sits on his knee. Gorbachev explains that it was Chernobyl that convinced him Russia couldn't go on as it was. Russia was failing and needed to change. They could not even take care of their nuclear power plant properly.
From 2007 to 2018, he worked with Angela Merkel, the Chancellor of Germany, to move it towards helping the poor, and she came through and "Angela Merkel had become the head and heart of Europe" he writes seeing the Germans waiting to meet Syrian refugees with bundles of clothing and shoes.
Ali is still anti-nuclear, but Bono as of January 2020, has 'moved over to the dark side,' because of what he learned from Bill Gates and the atmospheric scientist, Ken Caldeira, that if we are to get to zero-carbon, we have to use nuclear power.
In the early 1990s the band almost broke up, but they were working on Achtung Baby, and the song "One" saved them.
September 1992 they met Bill Clinton, then governor of Arkansas. He writes Clinton had "Charm at scale. Nuclear charm."
When the right-wing Serbians were destroying Sarajevo, they hooked up a live satellite feed to them of all of their concerts and after a few months, all of Europe knew about the war in Bosnia.
Here's what he wrote regarding Adam's recovery with the help of AA, a recovery that's been going on for three decades now: "Taking responsibility for yourself is one of the most important steps, along with surrendering to your higher power.
"Adam surrendered to his higher power. He'd never been a religious person, he'd opted out of Shalom when the rest of us were in its thrall, and he was annoyed by our Christianity. But he ended up on his knees with the three of us, looking to save himself from himself.
"Looking for help from something bigger than himself.
"It's an extraordinary thing, the moment of surrender. To get down on your knees and ask the silence to save you, to reveal itself to you."
All four of these bandmates are health heterosexual males. They hire Morleigh Steinberg, a belly dancer, to dance on stage during their shows. She dances to the song "Mysterious Ways." "Morleigh Steinberg had first caught our attention for having what the band referred to as the most attractive oxter on earth. Witness the collective gasp when she lifts her arms up in Matt Mahurin's film inserted into the video of "With or Without You.""
They had a tour called ZOO TV that needed dancing. Bono couldn't dance but Larry's wife bought him dancing shoes and salsa lessons and took him herself. Morleigh and three supermodels, Christy Turlington, Helena Christensen, and Naomi Campbell joined them: "Three women we treasure to this day." Several years later, Adam asked Naomi Campbell to marry him and she said yes. The marriage must not have lasted because later on in the book, Adam is happily married to another woman, a human rights lawyer, and they have a child. Christy later set up the charity Every Mother Counts, and Helena became a photographer and worked with UNHCR, ONE, and EDUN, to photograph the world's most vulnerable in a dignified manner.
He loved the south of France, a little chapel called Chapelle du Rosaire de Vence, the light playing through the stained glass, the azure water of Nice, the turquoise skies, and he loved the way the French people live. They afford famous people privacy. He first went in May 1986 and spent a night alone writing "With or Without You."
In the 1990s the 4 bandmembers bought a "sprawling, run-down pink ruin on the sea's edge." It's been a labor of love for 30 years. They make music, raise their children, holiday there.
It's there he meets Michael Hutchence. "I always felt a bit of a sham as a rock star, a bit part-time. I've known some real rock stars, and Michael Hutchence was one of them. A proper rock star, he had some essential equipment for the job. He was extremely masculine and extremely feminine. Tick. He could live large but travel light. Tick. The name of his band was INXS, which was a bad pun like the Beatles. Tick. He had a supermodel girlfriend from Denmark. Tickety tick." (Helena Christensen)
In 1994 he and Michael are having a conversation while looking at the "moon dancing on the water." Kurt Cobain had just committed suicide. Michael is saying why didn't he just hang on a little longer. "If he'd just have waited, mate, he'd have found a way out of whatever hole he was in. Didn't need to be a grave."
This friendship with Michael Hutchence became very painful. He and Helena broke up and Michael started dating Paula Yates, a woman Bono had known since he was 18. Michael and Paula must have been bad addicts. They asked Bono and Ali to be godparents to their daughter Tiger Lily but Bono and Ali said no – and were truthful about the dangers of their drug use. Michael took his own life in November 1997 and Paula died of a drug overdose three years later. This greatly affected Bono. "I confess to an unforgiving aspect in my personality which can take me by surprise. I had an intolerance for what I perceived to be self-generated problems. In the past I've rushed to wrongheaded judgments. I could get angry if I saw people in corners of the world begging for a breath, fighting for their life through hunger or illness, and then see privileged people throwing their life away."
Chrissie Hynde of the Pretenders told Bono, "Bono, we don't want to die stupid, choking on our own vomit, falling asleep in a swimming pool." She had lost two bandmates in the Pretenders, "and it still hurt." "I like my heroes to be alive," she told me. "I like them to grow old." She is one of his favorite singers.
Michael's death woke them to the fact that maybe they had been living a little too much of the good life. He went back to the little chapel, the Matisse Chapel, and thinks about the Apostle Paul in 1 Corinthians 13 describing love as more important than faith and hope, and "For now we see through a glass, darkly; but then face to face: now I know in part; but then shall I know even as also I am known." That chapter was called "Stuck in a Moment."
He and Edge spend time with Frank Sinatra at his house in Palm Springs. He writes about when Frank Sinatra is awarded a lifetime award and as he is giving his acceptance speech, it becomes apparent he has dementia and doesn't know where he is. Very sad. This is the year U2 wins best alternative album for Zooropa.
Luciano Pavarotti asked them to write a song for him to sing to help the war in Bosnia and Herzegovina which he could "almost see from his seaside home on the Adriatic coast." He kept calling and calling and bugging him to write the song. He does finally write "Miss Sarajevo" for him and he performs it live in September 1995 in support of the War Child charity.
He says about Mick Jagger that he is the "most mesmeric of all" "showmen that you can't keep your eyes off."
Bono worked for years to bring about Jubilee 2000, the forgiveness of debt for third world countries. He writes on page 369: "Though it took until 2005 for the full promises to be made and met, most economists agree that without Jubilee 2000 and its millions of supporters the cancellation of more than $100 billion of debts owed by the poorest countries would not have happened. The World Bank estimated that an extra fifty million children went to school on the savings that governments made once they no longer had to service old Cold War debts."
On page 371, he talks about singing the song "Pride" at a concert in Phoenix in the 1980s. Pride is about America's racism. They were warned about possible violence against them when they sang and that he "would not make it to the end of the song." He was losing his nerve as he sang the song and ended up singing it on his knees with his eyes closed. When he opened them, he couldn't see the crowd. It was because Adam Clayton was standing in front of him. "He'd stood in front of me for the length of the verse."
His two sons are born while his dad is dying. "Elijah Bob Patricius Guggi Q, born in 1999, and his second, John Abraham, born in 2001."
Their top three albums are All That You Can't Leave Behind, The Jushua Tree, and Achtung Baby. "Beautiful Day" is a joyous tune. He writes on page 382, "To sing a chorus like "It's a beautiful day," we'd need some clouds parting, the sun coming out, some kind of road rising. Edge found it with that repeating echo of his that he made famous in the 1980s, but stumbling on the part this time, he was immediately embarrassed. We all were.
"Oh my God, that sounds like U2."
"The problem is," I ventured, cautiously, "it sounds like the Edge in U2." To which Edge offered the perfect response.
"I am the Edge in U2. I can sound like this if I want."
"I think we might all have stood up and whistled. Edge's modesty is part of the construction of his music, and occasionally I remember he is the most influential guitar player of not just his generation. Ask any guitar players."
After his father died, he was still having anger management issues. Ali asks him to go to a therapist. The therapist turns out to be Jann Wenner, the Rolling Stone interviewer, and Jann tells him he owes his father an apology. So Easter 2002, he and Ali go to a little fishermen's church in Eze, France, and he comes back by himself, sits in the pews, and apologizes to his dad, Bob Hewson. He wrote the song, "Sometimes You can't make It on Your Own" and after that confessional, his voice changed: "I felt I got an extra couple of notes on my range; I felt I was becoming a real tenor as opposed to a pretend one. I could ring those high notes like a church bell, as I had never hit them before…Bob Hewson's final gift to me was to enlarge the one he gave me long before. I was now a true tenor, no longer a baritone who only thought he was a tenor."
He has to start working with George W. Bush's administration after 2001. There is an Aids epidemic in Africa that can undo all the good the Jubilee 2000 debt cancellations did. It takes many meetings with many people, but he finally does it. He uses Scripture with these hardheaded, judgmental Christians. Here are some of the people he worked with: Bobby Shriver, Paul O'Neill, the Treasury secretary; Senator Jesse Helms, Rupert Murdoch who had recently launched Fox News, Josh Bolten, and Dr. Condoleezza Rice. Then he goes on Oprah and says, "I don't think you have to explain to any mother that the life of a child in Africa has the same value as her child." Then he sees Dr. Anthony Fauci to try and get access to anti-retro viral medicines for Africa. Then he takes his campaign to rural America. "Tom Hart, a former Jubilee 2000 campaigner now leading DATA's advocacy in Washington, D.C. had some wise advice: "Just don't mention guns. One killer is enough for a trip like this." Americans, it seemed, have the same problem with firearms that we Irish have with alcohol The problem being that we don't think we have a problem." Warren Buffett gives him advice on how to appeal to the heart of America: "Don't appeal to the conscience of America. Appeal to the greatness of America." Bono writes: "Unlike Europeans, and especially Irish people, Americans are not motivated by attempts to guilt them into action. But offer them the role of the cavalry, and they're right there with you." They enlisted Ashley Judd and Chris Tucker. They had Agnes, a nurse from Ghana, tell her life story on stage. Some songs he wrote for this tour: "Treason" with Dr. Dre, and "American Prayer" with Dave Stewart and Pharrell Williams, that Beyonce sang for Nelson Mandela in 46664 Concert in 2003. For two years he works to get America to help Africa. On January 28, 2003, President Bush announces $15 billion dollars in aid over the next five years. "Until COVID-19, it would turn out to be the largest health intervention to fight a single disease in the history of medicine." After that announcement, Rupert Murdoch faxes him a congratulations and asks if he can do anything and Bono tells him, reminds him, "Dear Rupert, thank you for your kind note, could you please 'come on like the tide'?"" Bono has to get into George Bush's face because the money doesn't start coming on time. George Bush comes through. Bono writes: "Later I will apologize for my shrill behavior . . . and be forgiven.
"In the coming years, more than $100 billion of U.S. taxpayer money would be invested to ensure those children, women, and men did not lose their lives to a preventable, treatable disease. The scale of the response will almost meet the scale of the emergency."
He read Oscar Wilde's poem,"Ballad of Reading Gaol" to Steve Jobs two weeks before he died. He was friends with Steve Jobs and his wife, Laurene Powell Jobs.
They wrote the song "Ordinary Love" for the movie about Nelson and Winnie Mandela, Mandela: Long Walk to Freedom. They came in second. They lost to "Let it Go" from Frozen (ick!). Nelson Mandela was in an 8 x 7 foot prison cell for 27 years. He ran in place for 45 minutes every day, followed by 200 sit-ups and 100 fingertip push-ups. He kept his mind sound by reading. He loved the Irish author, George Bernard Shaw. It was a speech given by Mandela in London's Trafalgar Square in 2005 that affected Bono so deeply: "Like slavery and apartheid, poverty is not natural. It is man-made, and it can be overcome and eradicated by the actions of human beings. And overcoming poverty is not a gesture of charity. It is an act of justice. It is the protection of a fundamental human right, the right to dignity and a decent life."
"His words seemed to bring the world into focus so that I could see more clearly than ever the injustice of global poverty."
Page 449: "Another lesson white faces like ours needed to learn was to avoid the kind of framing in which the poor of the world are symbolized by Black faces. Often emaciated. Often "African." It's not accurate, as well as not fair. It's the opposite of justice. The youthful energy, the entrepreneurial activity, the artistic creativity in Africa's dynamic capital cities is still rarely storified elsewhere in the world."
"All countries who struggle to get out from under the jackboot of colonialism usually end up with a period of poor government. But the struggle to get out from under the stereotypes? Maybe that has something to do with us campaigners…Welcome to White Messiah Syndrome. If you're fronting a rock 'n' roll band, you need a bit of a messiah complex, but such a complex is less helpful for the antipoverty activist."
He went to a TEDGlobal 2007 conference in Tanzania, at the invitation of Chris Anderson at TED. He was asked to name one country that had benefited from international aid. He was, "Ireland." Then, "Germany."
"I still believe aid is essential, but how it is decided upon and delivered is just as important as the money itself, as is listening to the people it is designed to support. As is partnership rather than patronage. As is holding governments accountable for what is given, and what is received…"
Page 452: "But if Nelson Mandela was right, that living in poverty is a human construct which must be dismantled by humans, then how we dismantle it becomes the most pressing question of our shared history…"Let us bow our heads," is what Desmond Tutu said to him and his band in 1998 for the Truth and Reconciliation Commission in Cape Town. "Let us bow our heads," he said, addressing our traveling circus, half of whom were not at all religious. "Let us ask the Holy Spirit into the room to bless the work going on in this building, and to search of our hearts for how we can do more to fulfill Your Kingdom on Earth as it is in Heaven."
Page 453: "Despite our best intentions, some of us activists can burn out in the fire of our own do-goodery and the secret is to know when to shut up and listen. I once asked him [Desmond Tutu] if it was hard, with all his work, to find time for prayer and meditation. He shot me one of those looks. "How do you think we could do any of this work without prayer and meditation?"
"He [Desmond Tutu] taught me that prayer is not an escape from real life but a passage toward it."
On pages 453-455, he lists 11 things he has learned about activism to end extreme poverty. I think it is interesting, point #5, "Who's Got The Power:" …"Why does Africa, a continent of fifty-four countries and the world's second-largest population, have no representation at the G7 or the permanent UN Security Council? And just one seat at the G20. What century is this? What planet are we on?"
He's known Barack Obama since Obama was a senator. He and Obama and their families are friends. They wine and dine with them. In fact, Bono and Ali were with the Obama's near their last night in the White House. He writes on page 462 at the beginning of his term: "He will find Washington, D.C., a capital of contradictions, a place where he will be both beloved and damned by a political culture more factionalized and fissured than at any time since the Civil War. And not just because of the inherent racism in the power structures but because the grease that makes the wheels turn and the cogs bite in the Capitol has now become an oil slick of social media.
"My generation had grown up with a politics that shared facts and diverged on opinions, but Obama inherited a Washington with few shared facts and plenty of opponents determined to push back on anything that might resemble a real conversation or the possibility of compromise."
He mourns the era of Trump. On page 466, under "City of Blinding Lies:" "Now the first steps are being taken to dismantle the Republic. For starters it's not an inauguration but a coronation, and the crown is orange, not gold. King Trump begins his reign of compulsive lies with a cropped image of the Mall, its boundaries surging with people, when actually it is barely three-quarters full. Is the size of the crowd worth an argument? When we discover that the forty-fifth president has ordered these fantasy photos to hang in the West Wing, we know we have entered a new dimension in American Life.
"It's no secret that a liar won't believe anyone else"
"At ONE we decided we had to at least try to engage with the Trump administration. We tried until we couldn't try anymore…
"…Because he is the storyteller for this new present tense that holds only 280 characters and every story is a Grimms' fairy tale where the monster is under your bed or at the door or on the border. And you cannot get the monster out of your head…"
Page 467: "Waking to news of his election, I felt more nausea than shock, but like so many others I was already coming to understand that Trump is not the problem. He's the symptom of the problem. He's not the virus. He's the super-spreader. The virus is populism, and it's deadly as the plague. The real host is fear."
Back to Bill and Melinda Gates and Warren and Susie Buffett. Bono had performed her favorite song at her funeral, "All I Want Is You." Warren tells him two years later that he just gave 31 billion dollars to Bill and Melinda Gates' foundation. "They know how to spend that kind of money on the stuff that you all care about. The kind of stuff Susie cared about."
Page 499, he talks about talking Tim Cook, CEO of Apple, into dropping the new U2 album free to everyone. They did this on September 9, 2014. This turned out to be a bad idea. "The free U2 album is overpriced."
"For all the custard pies it brought Apple–who swiftly provided a way to delete the album–Tim Cook never blinked."
"When it went wrong, he was ready to take responsibility. And while he couldn't fire the person who put the problem on his desk [Bono], it would have been all too easy to point the finger at me. On the contrary he continued to trust us, not least by spending over a quarter of a billion of Apple's dollars supporting (RED), money going directly to the Global Fund to Fight AIDS, Tuberculosis, and Malaria."
A section on love songs and romantic love: "My idea of perfection is the near-obsessional version of "Something's Gotten Hold of My heart" by Marc Almond and Gene Pitney."
He also mentions Harry Nilsson's "Without You," "Nothing Compares 2 U" written by Prince and performed by Sinead O'Connor.
He writes about his long-term marriage and how he never wants to do something that would hurt her. They are willing to put in the hard work of love.
In the Chapter about "I Still Haven't Found What I'm Looking For," he writes: "If I mostly find religiosity annoying, right up at the top of the annoying is the pigheaded certainty of the devout without the doubt."
On page 509, he is describing a session with a hypnotist in 1986 who asked Bono to describe a favorite memory. Bono describes walking along a river with his best friend: "And everything is just as it should be. I have confidence in my footsteps; I feel I am learning judgement but not being judged. I can say anything I want. Sometimes there's a reply; sometimes there's not. It's just a conversation between friends." The doctor asks him who his friend is and Bono answers, "I think it's Jesus."
He writes on Page 511 while touring the Holy Land: "I am in awe of the poetic power of the scriptures, how you can't approach the subject of God without metaphor. All the way from Adam and Eve these fantastical stories help us make a way through our metaphysical lives. If science is how we navigate the physical universe, then religious texts offer to navigate the more than physical, the existence we can't even prove exists.
"Stories that are instruments of inquiry into an invisible world we strain to see, a world we glimpse through art and family and friendship. Stories of a love that has no beginning and no end."
He marvels at God becoming human as an impoverished child. "Unfathomable power expressed in powerlessness…Genius…Inexpressible presence choosing to be present not in palace but in poverty."
He was also friends with Johnny and June Carter Cash. He loves him because he wrote, "I Walk the Line," he was 6'2″ and "never looked down on anyone," he visited prisons, he discovered Kris Kristofferson "when Kris was down on his luck and working as a janitor in Nashville" and used to whistle his tunes to Johnny in the john. Kris, a former Marine helicopter pilot "landed in Johnny Cash's garden with a demo of "Sunday Morning Coming Down." Also he loves Johnny Cash because he formed the Highwaymen. And because "Jesus Christ took his initials."
In 1993, they asked Johnny to sing on the Zooropa album. Bono wrote the lyrics of "The Wanderer" for Johnny Cash and for his voice. After Johnny lost June, he called Bono and said he had to record, so: "A call that led to American Recordings and some of the finest musical readings in history including Johnny's stone-cold-sober version of our song "One."
On page 523, he writes about finding out from his brother Norman what he already instinctively knew, that his cousin Scott was their brother. Scott was born when Bono was 11. Bono's mother (Iris) and Scott's not blood father (Jack) were brother and sister. So, Barbara (Scott's mother) and Bob (Bono, Norman, and Scott's father) never told anyone the truth. Iris died three years later. Somehow, Bono always knew this, though, and he wonders if it was one of the reasons he was angry at his father.
On page 526, he thanks Edge: "I tell him that the three of us owe so much of our present to him, to the hours and days, the months and years of staying in his bedroom and getting it done. The cruelty of genius that so often doesn't come in a flash."
On page 529: "Why am I always talking about the scriptures? Because they sustained me in the most difficult years in the band and they remain a plumb line to gauge how crooked the wall of my ego has become. To getting the measure of myself. This is where I find the inspiration to carry on. The exhortation that makes this struggle with the self workable. The wisdom that makes it doable.
"I return to a spiritual master like the apostle Paul, way back in the first century of the modern era. I go to someone who overcame himself." Then he quotes 1 Corinthians 13 from The Message.
Pages 530-531: "I remain more suspicious of religion than most people who'd never darken the door of a church. I've never found a church I could call home, and I tell the kids to be wary of religion, that what the human spirit longs for may not be corralled by any sect or denomination, contained by a building. It's more likely a daily discipline, a daily surrender and rebirth…"
"God is present in the love between us. In a crowd. In a band.
"In a marriage.
"In the way we meet the world.
"God is present in love expressed as action.
"I sang the statement "I still haven't found what I'm looking for' as a question when I was twenty-seven. But in trying to make peace with my own uncertainty, I grew to be certain in one regard. That whatever our instincts or ideas about the great mysterious He or She or They, whatever the differences of the great faith traditions, they find common ground in one place: among the poor and vulnerable is where the signal is strongest."
…"God is with the terrorized. At sea with the desperate, clinging onto drowning dreams. God is with the refugee. I hear his only son was one. God is with the poor and the vulnerable, and God is with us if we are with them."
He talks about the word "surrender" on Page 536. Brian Eno says it may "be the most powerful word in the lexicon." They are making a new album, No Line on the Horizon. "I am persuaded by the thought that the only true way to be victorious is to surrender. To each other. To love. To the higher power."
While in Morocco, he's listening to Parisa sing and he determines he wants to be able to sing as well as her. "That I want to master my own singing instrument to allow me not just to praise God, but to sing for my wife, to sing for our children, to sing for our audience, to sing my life."
One of the songs that came out of this was "Moment of Surrender." I need to listen to that one. The way he describes it coming together it sounds awesome. "Brian [Eno] was playing with a "camel" loop, an off-center rhythmic motif that runs through the track and which he hadn't anticipated would work for us. But then Larry started drumming over the loop, Brian came up with a harmonium/church organ sound, and when I came in with the vocal, it felt as if something special was arriving. Brian told me afterward he "got the shivers" and nearly forgot he was playing. He didn't, though, and his memory is vivid: "I think that was the most intense experience I ever had in a studio. I have no idea how long it lasted. Could have been half an hour or all day. I was in the zone, in flow state, and for one of the few times in my life I knew exactly what I should be doing."
"The moment of surrender is the moment you choose to lose control of your life, the split second of powerlessness where you trust that some kind of "higher power" better be in charge, because you certainly aren't.
"Since 1998, when Adam checked himself into the Priory in London, a clinic specializing in addiction issues, I've had the honor of watching "surrender" work through this man's remarkable life and times."
He sings the Lord's Prayer in his head when he can't sleep. He senses he needs to Be Still. He's wondering if he can surrender his masks, his performer-mentality, and just Be Still. Sit with his best friend, his wife, and watch the ocean from Killiney Hill, without checking his phone "to see what's going on somewhere else in the world?"
Here's what he says about Patti Smith, who sang her song with them, "The People Have the Power" in Paris right after some terrorist attacks, which he was almost hurt by. "Singing with Patti, I'm conscious that she is one of those spirit guides I cherish. Her first album, Horses, gave us a chance to express our faith as doubt. "Jesus died for somebody's sins but not mine." This voice coming to me in my early twenties, showing me that you could have visions that you could sing about them. Radio Ethiopia and that voice pointed me to that place. On Wave, she speaks to the pope in a vision while the fiery prayers of Easter in 1978, this reverent irreverence, were everything I wanted. The way she allowed her religiosity to flow through would shape the way I see music."
The last page of the book, page 557, is a song he wrote incorporating Psalm 40:
I waited patiently for the Lord.
He inclined and heard my cry.
He brought me up out of the pit
Out of the miry clay.
Fantastic person, Bono. Thanks for your faith that moves mountains.
Wayne was not into U2 music. He said it sounded the same and each song is like an ear-worm that gets into your brain. Then, while we were listening to one of the songs on You Tube, the next song that came on was "Love is Blindness" from Achtung Baby. From almost the very first note, Wayne was alert and drawn to it. He recognized the genius immediately. It moves him to tears. I read him the page describing Edge playing "Love is Blindness" when he is feeling the anguish of the break-up of his marriage and the pain of that. Also how difficult it was for Bono to move the others to create the music on Achtung Baby since they had a sound and a formula that was very successful. Mostly, though, I just marvel at Wayne's ability to detect true genius at almost the first note.