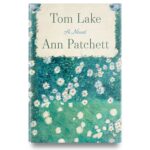 by Ann Patchett, 2023
Eminently readable novel about Lara Kenison, a young seamstress turned actress who was amazingly talented and beautiful but gave up stardom to marry Joe Nelson and work his cherry farm in Michigan. Lara's all grown up and telling the story of her life as an actress to her 3 adult daughters while they pick cherries on their cherry farm near Traverse City. They are all together because of the pandemic. The story of her life is centered around her playing the role of Emily in Our Town. She was in summer stock at Tom Lake on the Upper Peninsula. She meets Peter Duke, a young, handsome, charismatic actor, and falls deeply, madly in love with him. He teaches her to smoke and drink and be wild. His brother is Sebastian, and he is good and kind and handsome and a talented tennis player.
They enjoy life immensely, young and free. The director of the play is Joe Nelson, and he is a steady, strong presence. It turns out Joe's real love is cherry farming on his aunt and uncle's cherry farm. He invites Lara to come see it and the whole crew comes along. Peter Duke falls in love with the farm. So does Lara. They all do. It is beautiful and peaceful. They never forget that day.
One day, Duke (as Peter is called) is too drunk to play a game of tennis with Sebastian because he has been rehearsing with real tequila for Fool for Love, so Lara plays tennis with Sebastian instead. She is playing out of her mind and goes after a serve and ruptures her Achilles. Sebastian carries her to the car, drives her to the hospital, and takes care of her. Lara's acting days are over and she is fine with that, it turns out. But Duke moves on to Lara's understudy within a matter of days. Her understudy is the beautiful black actress/dancer Pallace, who happens to be Sebastian's love. Lara comes out of the hospital with a huge cast and is unable to walk for six months. Sebastian and Lara go to the opening night of the play Fool for Love, in which Duke and Pallace are playing the leads. The chemistry between them is so electric, everyone knows what is going on. Lara's heart is broken, Sebastian is angry. He storms out afterwards, beats up his brother, and leaves in a rage. Lara gets herself back to her wheelchair, wheels herself back to her little cottage, and deals with her new reality.
All the while she's telling her three daughters about her early days dating the famous actor Peter Duke, you get a lot of details about the cherry farm, and their current life, which is very happy. They are all together with Joe, their Dad, because of the pandemic. It's 2020. The three daughters are wonderful characters. Eldest is Emily, age 26. She loves the farm and plans to marry next door neighbor, Benny, and take over running the cherry farm. When Emily was young, she was convinced that Peter Duke was her father and she was full of anger towards her Mom, convinced she was lying to her. She's over it now, but she really needs to learn the real story behind Duke and her Mom. Middle daughter, Maisie, age 24, is in her final year of vet school. She loves animals and is helping all the neighbors with her veterinary skills. Youngest daughter, Nell, age 22, wants to be an actress, and she lives for the stage. She cannot believe her mom gave up the very thing she is hoping for her own life. Their dad, Joe, is a wonderful, kind, loving man. He was around back in the day – he was the capable director of the play Lara starred in, Our Town, and he fell in love with Lara, but knew she was in love with Peter Duke. He stayed caring and concerned and finally, years and years later, they run into each other in New York. And the rest is history. They buy the cherry farm and live happily ever after.