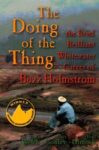 The Brief Brilliant Whitewater Career of Buzz Holmstrom
by Vince Welch, Cort Conley, Brad Dimock, 1998
Excellent book recommended by Adam because Buzz Holmstrom was a "Boatman's Boatman," like Adam. Takes place in the 1930s and 1940s and tells the story of this young man from Oregon who built his own boat and started running rivers. His first was the Rogue River in 1934-1935. Then, the Salmon River in 1936. 1937 was "the doing of the thing;" he ran the Green and the Colorado Rivers all the way to Lake Mead, solo. He ran all the rapids except for Lava Falls. Then he got kind of famous and that was hard for him. He went on another trip with his friends this time, in 1939, and this time, he ran Lava Falls, too. He is well-liked, even loved, but seems very shy. The next major river trip is across the country from west to east with Mrs. Clegg, a wealthy Vancouver woman. This trip took 8 or 9 months in 1940 and 1941. They went up the Snake, then the Yellowstone, then the Missouri, then the Mississippi, then the Ohio, and finally the Hudson to NYC. By the end of it, WWII had started in Europe. He is drafted and volunteers for the Navy. He serves admirably helping to build and repair boats as a carpenter's mate, and man PT (motored patrol torpedo) boats in the Pacific, around Australia and New Guinea. Once home, he drifts doing various jobs and finally lands on a survey trip down the Grande Ronde. He is tasked with running a scow he helped build down the full and fast river. He doesn't think he can do it. He borrows a shot gun and says "I'm going to shoot a chicken" and his body is found with a bullet hole in his head a few hours later. So sad. He was such a talented, likable, humble guy, a credit to the human race. There is controversy over the death. His mother cannot believe her son committed suicide. There are others, too, that think it may have been murder or an accident. But the coroner's report is pretty conclusive in the way the gun was laying and where the bullet hole was. There is speculation as to why he did it because he wasn't really a chicken. The one that gets closest to it, in my opinion, is the theory that he was depressed, that he had done the most amazing things in his youth and nothing could ever come close. Here's what Bob Sharp, a member of the 1937 Carnegie-Cal Tech research trip which met Holmstrom in the Grand Canyon, wrote 60 years later:
"If you have a remarkable experience as a young person, there is no encore. Everything else was going to be anticlimactic. Some of the astronauts have had a tough time. Grand Canyon is not that caliber, but it was the best trip I ever had. I had intellectual interests which went beyond the Canyon trip. I don't think Buzz had such a background of interests to tide him over. He had lived his dream and everything after that was dull. I believe that he could have easily deteriorated psychologically. He was a workman and just plain work was no longer satisfying. It's tough for somebody to have a marvelous experience like that. What do you do for an encore? What more do you have up your sleeve?"
Very well-written book. You feel like you are on the rivers in 1930s and 1940s. There are lots of snippets from Buzz's river journals throughout the book and those help the reader to know the young man. Such a tragic end, however, and breaks your heart.
Here are some quotes. This first is from pages 118 and 119 when Buzz catches up to the Dodge party in his first Grand Canyon run:
"The twentieth of November
Is a day we'll all remember
For around the bend at Diamond Creek there came another boat
And a bearded youth sat rowing
With a red hat plainly showing
Buzz Holmstrom had come down more than a thousand miles afloat."
"Thus wrote Cactus Jack in his "Doggerel Log of a Canyon Trip," adroitly capturing the spirit of Holmstrom's arrival. Never in Grand Canyon history had two river parties met. Never had anyone run it alone. The entire trip was as excited to meet Holmstrom as he was to catch them. As he pulled in and stepped out of his boat, he held up the "Hello Buzz" sign, wanting to know who had written it. He thanked Cactus Jack for the "the biggest morale boost of my life."
"Geologist Bob Sharp took careful notes:
'Buzz caught us at 11:15 a.m. at mouth of Diamond Creek–Height 5' 8 1/2″ weight 155-165 lbs–husky–nice build–Heavy black beard–fairly large head–nice patches–hair dark brown–hair thinning in front–eyes blue gray…. Buzz obviously very glad to see someone–mentions lonesomeness–talks very fast and at good length–good natured…"
"They shook hands, exchanged stories. Each wanted to know what the other had done at Lava, at Dubendorff, at dozens of other rapids. Holmstrom was amazed by the size and weight of Dodge's expedition boats, telling the men that his own feat was nothing compared to what their boatmen had managed. They were the heroes.
"Head geologist Ian Campbell asked Holmstrom if he'd ever been scared. "Gosh, Dr. Campbell," he replied, "I've been scared ever since I left Green River." They loved it. They loved him. Here was a man equal to the place, a man more humble than the Canyon was grand.
"Standing back, aloof from the excitement, was stiff, overbearing Frank Dodge. But his preconception of Holmstrom was crumbling. Finally, he came over and held out his hand. Holmstrom, awed at meeting the famous Frank Dodge, grasped his hand and shook it heartily, beaming. Years later, Dodge described Holmstrom's first few minutes in their camp:
"Something shone out of his eyes, something of wonderment and relief that the worst lay behind him and that he was with friends and only a little more to go. I think if one man can love another that we all loved Buzz from that moment on."
Here's a quote from his journal right before entering Lake Mead, becoming the first man to run the Colorado River through the Grand Canyon in a wooden boat, solo:
"Camp on right at lower end Rapid–mile 247 with the last bad one above me–theBad Rapid–Lava Cliff–that I have been looking for–nearly a thousand miles.
"I had thought–once past there–my rewrd will begin–but now–everything ahead seems kind of empty & I find I have already had my reward–in the doing of the thing–the stars & cliffs & canyons–the roar of the rapids–the moon–the uncertainty–worry–the relief when through each one–the campfires at nite–the real respect & friendship of the river men I met & others…I know I have got more out of this trip by being alone than if a party was along as I have more time–especially at nite–to listen & look & think & wonder about the natural wonders rather than listen to talk of war politics & football scores…" November 21, 1937
In 1938 when he runs the Green and Colorado rivers again with his buddies and he finally does Lava Falls Rapid: "He had done it, and as it turned out, he was the only boatman to run all the major rapids, including Separation and Lava Cliff. No one else ever got the chance. Since Holmstrom's run a year earlier, Lake Mead had risen seventy-five feet, burying the last two major rapids in a thick blanket of silt."
After this successful 2nd run with friends, Holmstrom writes to his friend, Julius Stone, that he's in a turmoil inside and can't seem to settle down. The authors write:
"Holmstrom had the classic symptoms of a malady boatmen have suffered ever since: withdrawal from the incredible elation of the River. The River, where everything is natural, scenic, and simple, where problems can be solved, the phone never rings, and goals are within immediate reach. To have discovered that world, lived in it, understood it, and savored it–then be compelled to leave it, with no certainty of ever returning–can inflict a peculiar strain of depression."
On the cross-country trip with Mrs. Clegg and others, they meet a woman called "Wheelbarrow Annie," real name Clydeus Rosalure Dunbar. "Annie smoked roll-your-owns, slept in her barn, looked out for horses and cow, dog and chickens, pheasants and rattlesnakes. At night she hiked with a lantern to Homestead for necessities. Holmstrom thought her "the dirtiest person I ever saw"; she may well have regarded him likewise."
Futher along on this cross-country trip, when they are on the Missouri: "Six years of drought, the Dust Bowl years, with their consequent devastating impacts on farms, were appallingly apparent all along their Missouri passage. Farms wer eshort of drinking water or, often as not, abandoned. Holmstrom: "…haven't seen a single farm with running water…sometimes pump 5 min before get even a trickle of water." Clegg: "The ranchers are few and far between on this river." And the river was quick to seize low-lying ground…"
"The depressing condition of the country, coupled with the bleak plains and the Norwegian settlers, prompted Holmsrom to make a literary reference to the Norwegian-American Novelist Ole Rolvaag, whose classic on struggling pioneer farmers, Giants in the Earth, had been published a dozen years earlier. Holmstrom remarked that the region was like a page out of the novel. He learned from merchants that the area had been good grazing ground, but high prices offered for wheat had persuaded ranchers to plow ground that was never meant to be plowed. Topsoil blew away like talcum power in a dry wind, farm prices fell, farms were abandoned, mortgages foreclosed."
Holmstrom's friend, Amos Burg, who went with him on his second trip down the Grand Canyon, and who took movies and pictures, made a film called Conquering the Colorado, which made Holmstrom cringe because of the hyperbole. This film is on YouTube so I sent it to Wayne and Adam.
Here's a funny tidbit from a letter he wrote to his friend, Earl Hamilton:
"I suppose I'll be getting drafted pretty soon.. We have no radio here and the war seems far away–still it is always in the back of my mind, which as you know is not far from the front–and it seems to keep a person from really enjoying anything."
In New Guinea, he "reevaluated some of his prejudices. Natives, maltreated by the Japanese invaders, cooperated with the Allies, furnishing invaluable labor and surveillance of enemies. Holmstrom soon came to admire their skills and industriousness, their sense of direction, their knowledge of their own landscape and waters, even their way of life." He writes, "I'll swear that these natives are happier than we are and have just as many things that are luxuries to them as we have."