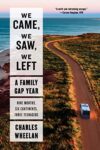 by Charles Wheelan, 2021
Loved this book! It is our second Old Town Library Book Club selection for the 2022-2023 year, and so refreshing! It was fun and funny. Charles Wheelan is an incredible dad. He teaches Economics at Dartmouth but loves to travel. He and his wife, Leah, decide to take their three teenagers on a gap year around the world. They farmed out the two dogs and Leah's sister's family stayed in their house for the year (9 months, actually). They had to have a strict budget, and the two youngest children, Sophie and CJ, had to maintain their school status; Sophie by taking on-line classes, which was a huge battle, and CJ by home-schooling. Katrina, the oldest at 18, had just graduated and deferred her college admission for a year.
They started in Cartagena, Colombia, then down to the tip of South America, then they flew to New Zealand and did both islands, then to Australia and Tasmania, then to Vietnam and Southeast Asia, then to India, Bhutan, Burma, Africa, back to India, then to Eastern Europe, and finally, back home. It was from the fall of 2016 to June of 2017. They had a strict daily budget, which Leah kept track of on a spreadsheet. They each got to take one backpack. Charles wanted to read books along the way, so he picked places they were going where they would be staying with people they knew and mailed the books ahead to those places. CJ, the youngest child, a son, was a chatterbox. Charles and his oldest daughter are introverts. Sophie and Leah are extroverted. There were some meltdowns, maybe about 5 total. They happened when they were really tired, really hungry, and really uncomfortable. But they went around the world, learned so much, and grew so much. CJ became an eco-warrior (at the same time, he loved sports cars and any luxuries along the way). His major assignment was to write a paper on deforestation. He did so, and it was good. Charles and Leah had gone around the world together in the 1990s and they compared the times. One of the take-aways was there has been much environmental degradation – the coral in the Great Barrier Reef is dying, and there was deforestation going on everywhere they went.
Katrina, the 18-year old, picked up a flesh-eating parasite during their time in the Amazon jungle. They noticed these sores on her feet that were not going away. Finally, a friend of hers in Germany hooked her up with a doctor in Germany that specialized in tropical diseases and they figured it out – Leishmaniasis – which had to be treated before it was too late, with 28 days of pills that make you feel like you are on chemo.
I think my favorite places were Cartagena, Colombia; New Zealand, Dar es Salaam, Tanzania; and Zanzibar.
He is a fun and very funny writer. He finished a novel while they were traveling, The Rationing, which I want to read. Also, I'd like to read his non-fiction books: Naked Money, Naked Economics, Naked Statistics.
Part of what makes it so good is that he understands the privilege from whence they come. He wants his children to learn this and to care about the world.
While in Colombia, there was a referendum being put to the vote to forgive the guerillas that had terrorized the country, give them cash and seats in congress. It was voted down. It is a dilemma: "Who wants to put killers in Congress? But if violent groups don't get a better deal than they deserve, they won't give up the fight. No one voluntarily agrees to life in prison." He writes about visiting Northern Ireland and a former member of the IRA told him: "The bumper sticker is wrong. If you want peace, you don't work for justice."
He writes: "Too many people havve done too many terrible things to too many other people–and those other people have often struck back in ghastly ways. Justice is not consistent with reconciliation. Giving everyone what they deserve will likely prolong the conflict, not end it. Unfortunately, that does not make for a good bumper sticker: IF YOU WANT PEACE, HELP THE PEOPLE WHO KILLED YOUR FAMILY GET A FRESH START!"
In La Paz, Bolivia, they saw that cable cars had been installed for mass transit. They are cheaper to build and carry people over the city. The city of Medellin, Colombia, had also installed cable cars to carry the poor people over the mountainous regions to jobs and opportunity. What a grand idea!
On straight roads in Argentina, after reading Bruce Springsteen's biography, he decides to finish his novel, because Bruce said his success was mainly attributable to 'dogged persistence.'
In the Peruvian Andes on a multi-day hike called the Salkantay Trek, during which CJ and Sophie were so sick (motion sickness and altitude sickness), when he figured out how to get them through it successfully (CJ with headphones to listen to music while he hiked, Sophie on the horse), his wife, Leah states that it was the most beautiful hike she had ever taken (and she grew up in Colorado).
When they were in Tasmania, they stayed in a charming small town near Hobart. The weather was cooler in Tasmania because of winds blowing up from the South Pole.
In Vietnam, he talked with his son, CJ, about the Vietnam War. He likened it to WWI and how the alliances before, the gruesome trench warfare, and the treaty of Versailles afterwards all "made future conflict with Germany more likely." But he was heartened to see the progress in Vietnam, the industriousness of the people and the vibrancy in the streets.
In Cambodia, they saw both wonder and horror. "If Angkor Wat reflects the wonder of Cambodia, the genocide–sadly, far more recent–is the horror. In the 1970s, the nominally Marxist Khmer Rouge killed several million people–roughly a quarter of the Cambodian poplulation. Led by the notorious Pol Pot, the Khmer Rouge emerged from the jungles and ultimately took over the country. To the extent that the Khmer Rouge had any coherent ideology, it was an emphasis on agricultural self-sufficiency that targeted educated, urban elites as the enemy. At the height of the insanity, anyone with eyeglasses — a sign of education –was at risk of arrest or murder."
In Tanzania, they met a lady named Janet, who had adopted many physically deformed children and provided a place for them. Every weekend they go to her house, a lovely place next to the Indian Ocean. They play and play and play, and Sophie and CJ warmed up to them and played with them. He writes: "I am not a religious person, yet I found religious language to be the only way to describe that afternoon. We were surrounded on the lawn by God's children and Janet was doing God's work. To be honest, it also made me feel small. Her profound generosity shone a light on what the rest of us might do to make the world better."
From Tanzania, they go to Zanzibar because CJ loves scuba diving. They dive from a town on the beach called Nungwi, on a sandy beach with "some of the clearest, most inviting blue water I have ever seen." You don't wear your shoes in Nungwi because you travel from place to place on the sandy beach. The diving there was better than the Great Barrier Reef.
In the conclusion, he talks about the things they learned. One of them was that "experiences, rather than things, are what make us happiest in the long run."…"Even bad experiences morph into positives over time." Leah and Charles also saw that poverty had decreased immensely and environmental degradation had increased, unfortunately. This sentence in the section, We pulled it off, resonates with me: "I worry that some of the most talented people I know, including the students I teaach, have been suffocated by conformity–an American culture in which we "live to work" and mindlessly accumulate. This adventure was, in part, an effort to push back on that. I've tried to make the case that the barriers to doing something like this are lower than one might think. A big reason many people don't do it is because many people don't do it." It was amazing to me that they several times let Katrina go far away by herself, to meet a friend and tour some part of the world for weeks at a time, arranging to meet up at a later day and time and place – and this, even when they realized she had a flesh-eating parasite! They often gave money to CJ so he could go around a city and see things on his own and make his own way back to the place they were staying.
Here's the last sentence of the book: "One thing will never change: fortune favors those who get their passports and go."
Excellent, fun, funny, adventurous, heart-warming, wonderful book! Thank you, Charles Wheelan!