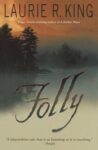 by Laurie R. King, 2001
Fun mystery! Pat was reading it on her front porch one day this summer. Set in the San Juan Islands, a talented, rich, widowed wood-worker decides to escape her demons on an island her uncle bought in the 1920s. She decides to re-build the house he built that was burned down. There are good characters and bad characters. The setting is wonderful. The writing is superb.
Spoiler alert:
You think it is Rae's son-in-law who has paid ruffians to harass and hurt Rae, make her think she is crazy, enough to want to end it all. It turns out it's not him – it's Rae's beloved husband's adult son, who is insanely jealous of the love his father had for Rae and their daughter, Bella. You don't find that out until the last chapter. In the meantime, you really get to know Rae and the good people in her life. You also come along as she rebuilds, by hand, this home on her island called Folly. While she is building it, she lives in a canvas tent by herself. Through the flora and fauna of this beautiful place, the kindness of strangers who become friends, and some good sheriffs who won't give up the trail, everything is resolved in the end; Rae is healed, the bad guy is caught, her home is re-built and solid, she has a new love, and she finds out she is descended from the kindly uncle – he is her grandfather, not the evil William who ruined her life and her father's life and her uncle's (who is really her grandfather) life, etc.
Fun book. Laurie R. King has written other mysteries: Mary Russell mysteries and Kate Martinelli mysteries.