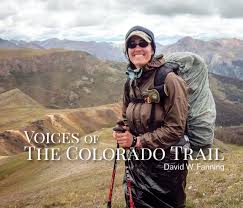 by David W. Fanning, 2017 (rawahranger.com)
David Fanning is a photographer who posts his photos on Next Door. They are excellent! Many are of owls and other birds. He lives in the Sheely Addition which is near Red Fox Meadows. He was asked if he ever considered writing a bird book and he answered with his favorite bird books, Sibley being one, and then said he has written a book called "Voices of the Colorado Trail." I got it from the library. It's a marvelous book! He includes short descriptions, very interesting descriptions, of each segment of the Colorado Trail, photos, and interviews with hikers along the way. Loved this book! He writes some poetry, and here's one I love:
Trail Trash

Every ounce of the trash

you so casually tossed in the bushes

irritates me as I trudge up the pass

this morning, thinking of punishment.

Hanging is too good for you.

I would toss you off a cliff,

make you hang by your fingernails

over the chasm

until you cry out how finally

you understand the purpose

of poetry and beauty in the world.

Then, I would give you another chance.
He includes a picture of the trail trash he collected.
Here are the last two paragraphs of the book:
Move slowly at the end of your journey. You will need time to decompress. The world will feel like it is whirling by, faster than you ever imagined. Hang out in Durango for a day. Get a ride to Glenwood Springs and soak in a hot springs pool until the train to Denver arrives. Get on it. Winding along the Colorado River at 30 mph with the train historian filling you in on the history of Colorado, a drink in your hand, is infinitely more pleasing than hurtling along the freeway at 80 mph. Ease into civilization slowly.

You are probably worried now that you have changed so much you won't fit back into the real world. But you will, it just takes time. Eventually, believe me, you will stop sneaking out at night to watch the moon and pee in the backyard. There might even be a few moments, here and there, when you don't think about the trail. You will fit back in. But something in you has also been changed forever. That's the part you want to treasure and nurture and remember for the rest of your life.
He says people worry about bears and mountain lions but the real danger is from lightning. You really need to know how to handle lightning. Here's what he says:
There is really not much point in worrying about mountain lions or bears on the trail. But you should worry about lightning. A lot. Almost everyone I know who has walked the trail has been threatened by lightning at least once. Read up and know how to take care of yourself in these situations. Be sure you left a will behind.
Here's another poem I loved:
Trail Miracles

You have heard of the loaves and fishes?

I don't claim this is in that category,

but my Jetboil canister has been burning

the same 1/8 ounce of fuel

for almost a week now.
Wonderful, fun book! Mom liked it, too. She actually read it first. As soon as she saw it, she was drawn to it. She loved the personal interviews with hikers. She couldn't believe how many miles they hike in one day.
One thing that threw me, however, is the picture on the cover. It's a woman! I would think you would put a picture of yourself on the cover. But this is a lady named Lisa Whitmire with whom he hiked and befriended the first time he hiked the Colorado Trail.
He also writes about the towns you can stop in along the way to re-supply. "The segment [20] ends at San Luis Pass and access to the town of Creede, which many consider one of the best resupply stops on the trail."
It's really neat that David Fanning lives in Fort Collins and is posting pictures on Next Door! Thank you for this treasure of a book, David Fanning!