by John Irvin, 1989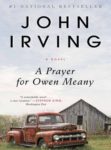 Unique, thought-provoking, sometimes hilarious story about tiny Owen Meany and his best friend, Johnny Wheelwright, and their growing up in Gravesend, New Hampshire, in the 1950's and 1960's. The story is told from Johnny's perspective and starts with telling how, during Sunday school when their teacher left the room for a smoke, they loved to lift up Owen and pass him around in the air. At first you think they are going to be mean and bully him, but they LOVED the little guy; they just couldn't resist lifting him up and passing him around. And, Owen didn't play the victim – not that he enjoyed being lifted up and passed around, but he didn't cry or whine or tell on them, even when the teacher returned and snapped, "Owen Meany, you get back to your seat! You get 
down 
from there!" (As if "Owen Meany had put himself up in the air"!)
Owen was so tiny, we loved to pick him up; in truth, we couldn't resist picking him up. We thought it was a miracle: how little he weighed.
In addition to being tiny, he also had a distinctive voice that is described as a "strangled, emphatic falsetto." The author uses all caps whenever Owen is speaking. They used Owen as a pinch walker on the Little League baseball team because his strike zone was so small, no pitcher could ever hit it. Once, the team was losing so bad, the coach said, 'Go ahead and swing at it, Owen.' So Owen swung so hard and hit a foul ball line drive that smacked Johnny's beautiful mother standing near third base directly in the head and killed her instantly. Owen loved Johnny's mother and Johnny's mother loved Owen, too. Owen's real mother never left the house and spent all day in a trance, sort of staring out of a window of their dreary, colorless, cold house.  Johnny didn't know who his father was and he thought someday his mother would tell him, but she died when he was 11 and she was only 30, so "She probably thought she had a lot of time left to tell me the story. She didn't know she was going to die, as Owen Meany put it."
Owen Meany told me that he was sure my father was alive, that he was sure my father knew he was my father, and that God knew who my father was; even if my father never came forth to identify himself, Owen told me, God would identify him for me. "YOUR DAD CAN HIDE FROM YOU," Owen said, "BUT HE CAN'T HIDE FROM GOD."
After Johnny's mother died because of the baseball, Owen gave Johnny ALL of his baseball cards as "his way of saying that he loved me enough to trust me with his famous collection." Johnny talked with his step-dad, Dan Needham, and Dan explained to Johnny that he needed to give Owen something "To show him that you love him." So Johnny decided to give Owen the beloved armadillo that they played with together so much.
That was when I first began to think about certain events or specific things being "important" and having "special purpose." Until then, the notion that anything had a designated, much less a special purpose would have been cuckoo to me. I was not what was commonly called a believer then, and I am a believer now; I believe in God, and I believe in the "special purpose" of certain events or specific things.
When Owen returned the beloved armadillo, it was without its claws, "the most useful and impressive parts of its curious body. Owen had returned the armadillo, but he'd kept the claws!"
"Your friend is most original," Dan Needham said, with the greatest respect. "Don't you see, Johnny? If he could, he would cut off his hands for you–that's how it makes him feel, to have touched that baseball bat, to have swung that bat with those results. It's how we all feel–you and me and Owen. We've lost a part of ourselves."

…Here is what Owen Meany (and the armadillo) said: "GOD HAS TAKEN YOUR MOTHER. MY HANDS WERE THE INSTRUMENT. GOD HAS TAKEN MY HANDS. I AM GOD'S INSTRUMENT."
A few years before Johnny's mother was killed by the baseball, Sagamore, the neighbor Mr. Fish's beloved dog, was hit and killed by a diaper truck. Johnny and Owen used to play football with Mr. Fish and his dog, Sagamore. One day, Owen managed to kick the football so high and so far it went over the house and out into the street where Sagamore chased it and was hit and killed by the diaper truck.
Poor Mr. Fish; Owen ran to get him, but Mr. Fish had heard the squealing tires—and even the dull thud–and he was halfway down the driveway when Owen met him. "I DON'T THINK YOU WANT TO SEE IT," Owen said to him. "WHY DON'T YOU GO SIT DOWN AND LET US TAKE CARE OF THINGS?"…The diaper truck driver sat on the running board of the cab. "Shit," he said.
They have a funeral that evening for Sagamore in Johnny's grandmother's rose garden. The Reverend Mr. Merrill is there and is asked to say a few words but he is so tense, he can't speak.
It was Owen Meany who found the words: " 'I AM THE RESURRECTION AND THE LIFE, SAITH THE LORD: HE THAT BELIEVETH IN ME, THOUGH HE WERE DEAD, YET SHALL HE LIVE; AND WHOSOEVER LIVETH AND BELIEVETH IN ME SHALL NEVER DIE.' "
When Owen plays the ghost of the future in the annual Christmas Carol play, he looks at the gravestone and sees something that causes him so much terror that he faints, and then recovers, jumps up, and screams. No one knows what terrifies him so badly until later.
"I SAW MY NAME–ON THE GRAVE," said Owen Meany…"IT WAS MY NAME," Owen said. "NOT SCROOGE'S."…"IT WASN'T JUST MY NAME," Owen said. "I MEAN, NOT THE WAY I EVER WRITE IT–NOT THE WAY I WROTE IT IN THE BABY POWDER. IT WAS MY REAL NAME–IT SAID THE WHOLE THING," he said. … "Was there a date on the gravestone?" I asked him. He gave himself away by hesitating.

"NO," he said.

"What was the date, Owen?" I asked him. He hesitated again.

"THERE WAS NO DATE," Owen said. I wanted to cry–not because I believed a single thing about his stupid "vision," but because it was the first time he had lied to me.
Here Johnny is describing his grandmother:
Above all things that she despised, what my grandmother loathed most was lack of effort; this struck Dan Needham as a peculiar hatred, because Harriet Wheelwright had never worked a day in her life–nor had she ever expected my mother to work; and she never once assigned me a single chore. Nevertheless, in my grandmother's view, it required nearly constant effort to keep track of the world–both our own world and the world outside the sphere of Gravesend–and it required effort and intelligence to make nearly constant comment on one's observations; in these efforts, Grandmother was rigorous and unswerving.
Here's Owen talking about the parting of the Red Sea in the movie, The Ten Commandments:
"YOU CAN'T TAKE A MIRACLE AND JUST SHOW IT!" he said indignantly. "YOU CAN'T PROVE A MIRACLE–YOU JUST HAVE TO BELIEVE IT! IF THE RED SEA ACTUALLY PARTED, IT DIDN'T LOOK LIKE THAT," he said. "IT DIDN'T LOOK LIKE ANYTHING–IT'S NOT A PICTURE ANYONE CAN EVEN IMAGINE!"
Here's a conversation with Rev. Mr. Merrill during a class on Scripture when they are in high school at the Gravesend Academy:
…The Rev. Mr. Merrill countered humbly with Kierkegaard: "What no person has a right to is to delude others into the belief that faith is something of no great significance, or that it is an easy matter, whereas it is the greatest and most difficult of all things."

Owen, who'd had his doubts about Pastor Merrill, found himself in the role of the minister's defender: "JUST BECAUSE A BUNCH OF ATHEISTS ARE BETTER WRITERS THAN THE GUYS WHO WROTE THE BIBLE DOESN'T NECESSARILY MAKE THEM RIGHT!" he said crossly. "LOOK AT THOSE WEIRDO TV MIRACLE-WORKERS–THEY'RE TRYING TO GET PEOPLE TO BELIEVE IN MAGIC! BUT THE REAL MIRACLES AREN'T ANYTHING YOU CAN SEE–THEY'RE THINGS YOU HAVE TO BELIEVE WITHOUT SEEING. IF SOME PREACHER'S AN ASSHOLE, THAT'S NOT PROOF THAT GOD DOESN'T EXIST!"

"Yes, but let's not say 'asshole' in class, Owen," Pastor Merrill said.

And in our Scripture class, Owen said, "IT'S TRUE THAT THE DISCIPLES ARE STUPID–THEY NEVER UNDERSTAND WHAT JESUS MEANS, THEY'RE A BUNCH OF BUNGLERS, THEY DON'T BELIEVE IN GOD AS MUCH AS THEY WANT TO BELIEVE, AND THEY EVEN BETRAY JESUS. THE POINT IS, GOD DOESN'T LOVE US BECAUSE WE'RE SMART OR BECAUSE WE'RE GOOD. WE'RE STUPID AND WE'RE BAD AND GOD LOVES US ANYWAY–JESUS ALREADY TOLD THE DUMB-SHIT DISCIPLES WHAT WAS GOING TO HAPPEN. 'THE SON OF MAN WILL BE DELIVERED INTO THE HANDS OF MEN, AND THEY WILL KILL HIM. . . ' REMEMBER? THAT WAS IN MARK–RIGHT?"
When they get older and are in college, Owen knows exactly when and how he is going to die. He knows he dies a hero. He's had a dream and that, along with his name (1LT PAUL O. MEANY, JR.) and date of death from the vision during the Christmas Carol play, he is pretty sure he is going to die in Vietnam. He goes to college on a ROTC scholarship and keeps asking his superiors to be transferred to Vietnam. As the day approaches when he is supposed to die, he is still at Fort Huachuca in Arizona, serving as a first lieutenant in the Casualty Branch Office. He escorts bodies of soldiers from Vietnam to their families. The weekend of his death, he invites Johnny out to spend the weekend in Arizona. The family of the latest soldier is crazy and they have a lunatic 15-year old son who hates everyone and everything. After the funeral, Owen and Johnny are at the airport and the 15 year-old boy is hiding in the dark. He sees a plane full of Vietnamese children and nuns disembark and ask Owen and Johnny to take the boys to the restroom. The restroom is a temporary restroom that passes a dark hall and looks like a converted janitor's closet. As Owen and Johnny are helping the boys, the 15 year-old boy walks in and pulls the pin on a grenade and throws it to Owen. Owen and Johnny have practiced a move called, "The Shot," for years in which Johnny lifts Owen and a basketball and moves him toward the basket where Owen reaches up and dunks the ball in the basket. They have gotten the move down to under 5 seconds. Here are the words:
"STAND BESIDE ME," he said. I was moving toward him when the door was kicked wide open and Dick Jarvits stood there, nearly as tall and thin as the tall thin room; he held a Chicom grenade–carefully–in both hands.

"HELLO, DICK," said Owen Meany.

"You little twit!" Dick said. One of the children screamed; I suppose they'd all seen men in jungle fatigues before–I think that the little boy who screamed had seen a Chicom grenade before, too. Two or three of the children began to cry.

"DOONG SA," Owen Meany told them. "DON'T BE AFRAID," Owen told the children. "DOONG SA, DOONG SA," he said. It was not only because he spoke their language; it was his voice that compelled the children to listen to him–it was a voice like their voices.  That was why they trusted him, why they listened. "DOONG SA," he said, and they stopped crying.

"It's just the place for you to die," Dick said to Owen. "With all these little gooks–with all these little dinks!" Dick said.

"NAM SOON!" Owen told the children. "NAM SOON! LIE DOWN!" Even the littlest boy understood him. "LIE DOWN!" Owen told them. "NAM SOON! NAM SOON!" All the children threw themselves on the floor–they covered their ears, they shut their eyes.

"NOW I KNOW WHY MY VOICE NEVER CHANGES," Owen said to me. "DO YOU SEE WHY?" he asked me.

"Yes," I said.

"WE'LL HAVE JUST FOUR SECONDS," Owen told me calmly. "YOU'LL NEVER GET TO VIETNAM, DICK," Owen told the terrible, tall boy–who ripped the fuse cord and tossed the bottle-shaped grenade, end over end, right to me.

"Think fast–Mister Fuckin' Intelligence Man!" Dick said.

I caught the grenade, although it wasn't as easy to handle as a basketball–I was lucky. I looked at Owen, who was already moving toward me.

"READY?" he said; I passed him the Chicom grenade and opened my arms to catch him. He jumped so lightly into my hands; I lifted him up–as easily as I had always lifted him.

After all: I had been practicing lifting up Owen Meany–forever.
Johnny lifts Owen and the grenade up to a window ledge and Owen holds the grenade between his arms on the window ledge, with his head below the ledge, when the grenade explodes. It blows up and only sends a few pieces of plaster down on the children, none of them are hurt. Owen is alive also, but his arms have been blown off. One of the nuns cradles him in her arms as he bleeds to death. As he dies, he says:
" ' . . .WHOSOEVER LIVETH AND BELIEVETH IN ME SHALL NEVER DIE,' " Owen said to her. The nun nodded in agreement; she made the sign of the cross over him.

Then Owen smiled at Major Rawls. "PLEASE SEE TO IT THAT I GET SOME KIND OF MEDAL FOR THIS," he asked the major, who bowed his head–and cranked his tourniquet tighter.

There was only the briefest moment, when Owen looked stricken–something deeper and darker than pain crossed over his face, and he said to the nun who held him: "I'M AWFULLY COLD, SISTER–CAN'T YOU DO SOMETHING?" Then whatever had troubled him passed over him completely, and he smiled again–he looked at us all with his old, infuriating smile.

Then he looked only at me. "YOU'RE GETTING SMALLER, BUT I CAN STILL SEE YOU!" said Owen Meany.

Then he left us; he was gone. I could tell by his almost cheerful expression that he was at least as high as the palm trees.
Here are the last two paragraphs of the book:
When we held Owen Meany above our heads, when we passed him back and forth–so effortlessly–we believed that Owen weighed nothing at all. We did not realize that there were forces beyond our play. Now I know they were the forces that contributed to our illusion of Owen's weightlessness; they were the forces we didn't have the faith to feel, they were the forces we failed to believe in–and they were also lifting up Owen Meany, taking him out of our hands.

O God–please give him back! I shall keep asking You.
Here's another quote I like from the book when they are playing on a Catholic school playground with a statue of Mary Magdalene and it gets dark and Owen keeps asking Johnny if the statue is still there even though he can't see it. Johnny yells "I know she's there!" Owen says, "WELL, NOW YOU KNOW HOW I FEEL ABOUT GOD, I CAN'T SEE HIM–BUT I ABSOLUTELY KNOW HE IS THERE!"
After Owen's death, Johnny finds out his father is the Reverend Mr. Merrill. God talks to Johnny through Mr. Merrill, using Owen's voice, and is told to "LOOK IN THE THIRD DRAWER, RIGHT-HAND SIDE." There he sees the deadly baseball and Mr. Merrill says, "Forgive me, my s-s-s-son!"
The Reverend Mr. Merrill regains his faith after Owen's death and he gives the sermon at Owen's funeral. He says, " ' I am the resurrection and the life, saith the Lord . . .' " and:
" 'The Spirit of the Lord God is upon me, because the Lord has anointed me to bring good tidings to the afflicted . . .' " Pastor Merrill read to us. " '. . . he has sent me to bind up the brokenhearted,' " cried Mr. Merrill, who had no doubt–his doubt was gone; it had vanished, forever! He scarcely paused for breath. " '. . .to comfort all who mourn,' " he proclaimed.
He went on and read from Lamentations, " 'For the Lord will not cast off forever, but, though he cause grief, he will have compassion according to the abundance of his steadfast love; for he does not willingly afflict or grieve the sons of men.' " Then, he read from a Psalm, " ' The Lord shall preserve thy going out, and thy coming in, from this time forth for evermore.' " Then Romans, " 'I consider that the sufferings of this present time are not worth comparing to the glory that is to be revealed to us.' " From I Corinthians, " 'But in fact Christ has been raised from the dead . . . For as by a man came death, by a man has come also the resurrection of the dead.' " And II Corinthians, " 'So we do not lose heart, though our outer nature is wasting away, our inner nature is being renewed every day. For this slight momentary affliction is preparing us for an eternal weight of glory beyond all comparison because we look not to the things that are seen but to the things that are unseen; for the things that are seen are transient, but the things that are unseen are eternal.' " Then another Psalm, then from John: " 'I am the Good Shepherd. The good shepherd lays down his life for the sheep.' " Then when the mourners were seated, he said: "O God–how we miss Owen Meany!" Then he read from Mark about the father who cries out, "I believe; help my unbelief!" And he explains:
Owen Meany helped my 'unbelief,' " my father said. "Compared to Owen Meany, I am an amateur–in my faith," Mr. Merrill said. "Owen was not just a hero to the United States Army–he was my hero," my father said. "He was our hero–over and over again, he was our hero; he was always our hero. And we will always miss him, " the Rev. Lewis Merrill said.
It was a good book, especially when they are young and being boys. He does get a little political when he is narrating from the present time (1980's) and Ronald Reagan is President. He can't stand him and rants and raves about his lying and deception during the Iran-Contra deal. But despite that, it was an intriguing tale. World Vision actually recommended this book as a summer read about a person with deep faith. That is Owen Meany, for sure. An instrument of God, in a little, tiny body, with a screechy voice.
Wayne and I were talking about protests and Trump supporters and the lack of any willingness to die for their cause. That reminded me of a couple of places in the book where he talks about Vietnam protesters:
…All those hippies, all those days of protest songs and "sexual freedom"; remember that? Owen Meany had sacrificed much more, he had suffered much more–I was not even remotely interested in other people's sacrifices or in what they imagined was their heroic suffering.

…Burning your draft card, coming to Canada, getting your nose busted by a cop in Chicago–I never thought these gestures were heroic, not compared to Owen Meany's commitment. And by 1970, more than forty thousand Americans had died in Vietnam; I don't imagine that a single one of them would have thought that draft-card burning or coming to Canada was especially "heroic"–nor would they have thought that getting arrested for rioting in Chicago was such a big fucking deal.

…What I saw in Washington that October were a lot of Americans who were genuinely dismayed by what their country was doing in Vietnam; I also saw a lot of other Americans who were self-righteously attracted to a most childish notion of heroism–namely their own. They thought that to force a confrontation with soldiers and policemen would not only elevate themselves to the status of heroes; this confrontation, they deluded themselves, would expose the corruption of the political and social system they loftily thought they opposed. These would be the same people who, in later years, would credit the antiwar "movement" with eventually getting the U.S. armed forces out of Vietnam. That was not what I saw. I saw that the righteousness of many of these demonstrators simply helped to harden the attitudes of those poor fools who supported the war. That is what makes what Ronald Reagan would say–two years later, in 1969–so ludicrous: that the Vietnam protests were "giving aid and comfort to the enemy." What I saw was that the protests did worse than that; they gave aid and comfort to the idiots who endorsed the war–they made that war last longer. That's what I saw. I took my missing finger home to New Hampshire, and let Hester get arrested in Washington by herself; she was not exactly alone–there were mass arrests that October.