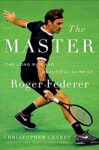 by Christopher Clarey, 2021
A full-on immersive trip into the world and life of Roger Federer. There have been about 12 biographies on Roger Federer. This is probably the definitive one. It takes you in-depth from before Roger was born (which was on 8/8/1981) to shortly after his devastating loss to Djokovic in the Wimbledon final of 2019 (in which he had 2 championship points on his serve). I learned so much about Roger and he has definitely come down a notch or two in my eyes. Wayne bought this book. Roger is a tennis player's tennis player and Wayne respects and admires his game so much. But, here's what I learned:
Roger was a little brat and a cry-baby. He smashed rackets and yelled and screamed and when he lost, he cried like a baby. His Dad was so ashamed of him, he wouldn't let him ride home with him after an episode like that–he gave him bus fare home. Roger didn't change his behavior until he saw himself on TV and was embarrassed. His parents also had him meet with a psychologist and they worked on things for awhile – it's still a secret what exactly they worked on.
Roger has an older sister, Diana, who also had identical twins. That is all that is mentioned about her in this book. I think there's a story there.
Roger and Mirka have two sets of identical twins.
Never does he mention Roger having any faith in God. In fact, in one quote, Roger uses "Jesus" in a swearing sort of way. Maybe this explains why he has lost more close matches, while having match points, than either Rafael or Novak? He thinks it's all up to him and has no one else to lean on? I don't know.
He started his Roger Federer Foundation early on, but only at the urging of his Mom. He chose education because he admired Agassi's foundation. Both he and Agassi stopped school at age 16.
He's more about the money than I thought he was. The reason Nike didn't renew their sponsorship of Roger in 2018 was because he wanted too much. Nike only allows 10% of gross for athletic sponsorship and Roger's demands would have broken that, because they also had Rafael, Serena, Nick, Sharapova, Amanda, and a few others.
Christopher Clarey divided the book by locale – the places Roger learned tennis, lives, and plays tournaments.
Both Federer and Nadal loved soccer and tennis but chose tennis over soccer at age 12 when their respective soccer coaches said they couldn't compete if they didn't attend soccer practice.
Federer actually started playing tennis at age 8 in the Old Boys Basel club where his mom played. Peter Carter (Carts), an Australian, was his first coach. He is the one who molded Roger's playing style and tennis psyche. Roger's "forehand grip is close to the classic handshake grip, known as an eastern grip." Wayne says Roger is the only one who plays that forehand grip any longer – everyone is enamored of top spin so uses the semiwestern grip. Roger's mom had a one-handed backhand and Roger's role-models growing up – Becker, Edberg, and Sampras – all had one-handed backhands. Darrin Cahill told Peter Carter that Roger's backhand was a weakness the first time he saw him in Basel in 1995–because Roger took a big step into the backhand. Cahill told Peter Carter that Lleyton Hewitt was better than Roger. Cahill said Roger strutted around the court like John Travolta in Saturday Night Fever, like he owned the court.
Federer's greatness is in his "forehand, footwork, serve, timing, court sense, planning, and appetite for more. But there was another undeniable weakness in those early years: Federer's mentality."
"I was a terrible loser, I really was," Federer said.'
Federer switched to a training center called Ecublens in the Swiss-French part of Switzerland in August of 1995. That is where he learned to speak French. He lived with a host family. He was homesick and it was hard on him, but he pushed through it and it helped him grow. That's where he met Severin Luthi, his age group, and formed a lasting friendship. It's also where he met Pierre Paganini in 1995 and Pierre became his fitness coach in 2000. Paganini developed tennis-specific drills: "You have to be strong, fast, coordinated, and have endurance in tennis and you have to do drills for that." Weight-training and distance running were not useful for tennis. Tennis players need "explosive endurance." Short bursts over a period of up to 5 hours. He goes into detail about some of the different training exercises he uses with Federer.
Federer got his first ATP points (12 of them) shortly after turning 16, on September 22, 1997. In 1997, the Ecublens training center moved to Biel/Bienne, Switzerland, and Roger with it. He was being coached by Peter Lundgren and Peter Carter. He stopped his education at age 16, the legal age he could quit, and focused entirely on tennis. Federer still had his temper and his playfulness. I like these two paragraphs:
"It seems only fair at this stage to put Federer's behavior in perspective. He was no bad boy off the court and frankly no worse on court than a lot of youngsters with a perfectionist streak trying to navigate their way through a game that does not allow for perfection. …"
"Lammer, who has known and played Federer since boyhood, acknowledges that there was a self-control issue but is also convinced that it has been magnified by what Federer became."
His parents and coaches were concerned enough, though, to hire a sports psychologist named Christian Marcolli in 1998. Some things Marcolli says are that tennis is the most brutally tough sport mentally, because it's long and lonely (no coaching allowed during matched) and there is a lot of time between points for your head to go to a dark place. He recommends using the down time wisely: "Marcolli focuses on intentionality between points: on players managing breathing patters and controlling where they look to maximize focus."
"The big thing to me is always how you use your eyes," he said.
Christian Marcolli started working with Federer when he was not yet seventeen. Marcolli has written several books, one of which is: More Life, Please! The performance Pathway to a Better You. Federer worked with Marcolli for two years, and though it helped him a lot and enabled him to go to a higher level, he's not talked about or acknowledged Marcolli that much. "But neither Marcolli nor Federer has publicly explained their work in detail because that is Federer's wish." Marcolli is quoted on page 90: "When I see Roger today, I always tell him, 'What you do on the court is extraordinary, but how you handle your life to me is out of this world. When you have everywhere, all the time five-star-plus luxury, people who look into your eyes and bring you stuff you don't even order, and then you go on the court, and the game doesn't care. The game doesn't care where you slept, what you did, how many people you met. The game is pure, and he managed over twenty years to come out and play it with humility and that same amount of connection it takes to be able to keep winning matches. The way he approaches work and yes, we can call it work: the dignity, the level of concentration. To me, he's a role model from that perspective."
Marc Rosset played with a young Federer and was amazed at how relaxed and at ease Federer was with him – not a bit nervous or trying to impress him. Marcolli and Rosset both comment on Federer's ability to live fully in the moment and also to surround himself with people he trusts and not second-guess things.
Federer won Junior Wimbledon singles and doubles in 1998.
He was asked to be on the Swiss Davis Cup team and Marc Rosset let him stay in an adjoining room to his. Marc came back to find Federer in his room playing on the PlayStation, "catnip to Federer." Rosset said, "Do you mind? Can you leave me in peace for a little while?"
Paul Dorochenko, a French fitness trainer and physiotherapist worked with Federer in 1998. He is quoted: "Roger was fragile emotionally. He could not accept defeat, and he was mediocre in training. He was not a big worker. He was fooling around most of the time. In terms of fitness, I demanded a lot from him and had him do a one-hour run that had frankly no utility for tennis, but it was good for the mental side, to toughen him up."
All the coaches worked to keep Federer "engaged and amused." They hired a circus guy and he taught Federer to juggle. Dorochenko would have to go to Federer's room to find him (at the tennis academy in Biel) and his room was so messy, they weren't sure if he was in there. One of the coaches, "concerned about Federer's low margin for error on his groundstrokes, tried stringing a rope three feet above the net and having Federer clear the rope with his shots while still keeping the ball in play. Tremendous topspin was required, and though Federer got the message, in typical fashion he also took the exercise to the next level, finding a way to marry massive spin and velocity. The forehand he learned to hit at full rip was dubbed "the cliffhanger.""
Federer was right-handed with left eye dominant so the forehand was his most natural shot. Dorochenko has Federer play him with his left hand. "Federer was a creative type, a guy who did not have much concentration and who had lots of ups and downs. He broke rackets and threw away matches. He was really not good in mental terms, and so we said, okay, let's construct a tennis for Federer that fits Federer, and Peter Carter was really the constructor in chief. I don't think Federer knew all that was done for him, but it led to a technique that was totally made for him." Dorochenko worked with Federer and says Federer was really strong and had high aerobic level (VO2 max of 62). But Federer's strongest point was how quick-footed he was.
Agassi played and beat Federer in October 1998 but told his coach, Brad Gilbert, "…he's going to be good really quickly."
Federer and Mirka got very close in the Olympics in Sydney in 2000. Mirka is Miroslava Vavrinec, a Swiss tennis player born on April 1, 1978, whose parents were from Czechoslovakia, and who had to eventually retire from tennis due to foot problems.
In the next year, they became boyfriend and girlfriend and Roger saw his antics and anger on the court on TV and was embarrassed. He worked hard to change and he did. Then, his beloved childhood coach, Peter Carter, died on his honeymoon in South Africa, and it crushed Roger. Cahill told Roger at the funeral that Peter would be so proud of him. It motivated Roger to honor Peter through his playing. It was a turning point.
From after Hamburg in 2001 to 2003 Wimbledon, Roger was working on controlling his emotions. He went from being a racket smasher and ranter to being too calm, too mellow. He had been in 16 major tournaments and had yet to advance past the quarterfinals, while Lleyton Hewitt had already won a grand slam, as had Marat Safin and Juan Carlos Ferrero. Federer finally won his first slam at age 21 at Wimbledon in 2003, against Mark Philippoussis, 7-6 (5), 6-2, 7-6 (3).
When Agassi was 33, he played Federer in Houston and Federer beat him this time. Agassi told Cahill, his then-coach, after Cahill found him in the locker room with his head down for twenty or thirty minutes, "Mate, our game has forever been changed. It will never be the same. This guy is just taking this game to a whole new level. We haven't seen this type of level before."
He compares Safin and Federer and there were many similarities when they were young, but Safin didn't conquer his temper and was injury-prone. "It is hard not to wonder what might have been if he, in his teens, had meet a fitness guru like Paganini, spent some quality time with a performance psychologist like Marcolli, or found a life partner like Vavrinec who understood and supported all that was required to remain a tennis champion and had no problem speaking her truth to power."
In 2004, Roger became Number 1. That year, he compiled a 74-6 record. Federer played an unknown teenager, Rafael Nadal, for the first time in 2004. Rafael beat him 6-3, 6-3 in the third round of the Miami Open. Federer won Wimbledon again in 2004, this time against Andy Roddick. Roddick was asked if he had ever played that well and lost. Andy thought before he answered and said, "A couple of times it's happened. They've just all been against Roger."
Brad Gilbert said, "By 2005, 2006, he was the greatest I had ever seen at just hitting the spot with his serve and then on the next ball, he could just hurt you everywhere. That, for me, is what dramatically improved, that ability to get so many free one-two points."
Here are quotes from Andy Roddick at that time: "I could throw one down at 140 that took a lot of effort, and he was able to get neutral with about six inches of swing, just by meeting it. It's saying something when you're serving 140, and the guy's not in a rush." He also said Roger was not 'in your face:' "Well, he doesn't give you anything to hate, which is kind of annoying. You know, Lleyton and I would butt heads…You kind of want to have that chip on your shoulder. Maybe you need it against certain people, and I can certainly find it against most. I had a hard time doing it against Pete and Andre, because they were heroes of mine. Against Roger, he's not going to give you a sideways look, or he's not going to stare you down before a match or fist-pump you at the wrong time. He just doesn't give you anything, which is foreign with someone who is kind of in your way as far as your profession goes."
Here's a quote from Federer on his seemingly effortless game: "I think the problem of playing effortless ennis was a big one early on in my career, because somebody's going to look at you and go, 'Okay, very talented.' When I lost, everybody would tell me, "Why don't you try harder?' And when you win, it's like 'Ohhh my God. What a beautiful game."
Hewitt on a wall mumbling, "He's too quick. Roger's too quick." That's when everyone thought Hewitt was the "fastest thing that had ever moved on a tennis court." (Peter Smith quoted)
At the Australian Open in 2005, Federer was playing against Marat Safin in the semi-finals and it became one of the greatest matches ever. Federer lost after having match point in the 4th set tiebreaker. He had match point at 6-5 and Safin lobbed him and Federer hit a tweener that struck the net. He ended up losing in the 5th set after staving off 6 match points from Safin. Safin went on to beat Hewitt in the final but he never won another and retired at age 29. "But the 2005 Australian open was definitely a sign of things to come for Federer. He was the world's best tennis player, no doubt, but he was also beginning to inspire greatness in others. And as he and Safin dueled on a warm Australian summer night, his rivals and future rivals were watching closely from afar."
In Chapter 8, he covers Nadal. He's from Mallorca, Spain. His family goes back generations and the whole extended family lives in a five-story apartment building estate in Manacor overlooking the ancient church, and they also own another oceanside property in Porto Cristo. They are wealthy and he is very, very close to his family. His Uncle Toni started him playing tennis at age 3. He also played soccer, and like Federer, he chose tennis over soccer at age 12 after a soccer coach benched him for missing a practice. Even though Rafael was right-handed, Uncle Toni noticed Rafael's two-handed groundstrokes were stronger on his left side, so he let Rafael choose and Rafael chose to play tennis as a lefty. Rafael was never a racket-smasher; his uncle would have kicked him off the court. He never needed a sports psychologist. Federer and Nadal first played in Miami in 2004; Nadal won. Their rivalry started in earnest in 2005. Federer beat him that year in Miami, but Nadal beat Federer in the semi-finals of the French Open. Federer said of Nadal in 2005, "Quite impressive, isn't it? He's already bigger than me, and he's five years younger. Imagine how he looks in five years!…I think it's also good he's a lefty."
Nadal has a congenital problem with a bone, the tarsal scaphoid, in his left foot, which was discovered in late 2005, early 2006. A trip to Nike in Oregon and some special in-soles and custom-made shoes allowed him to continue playing. But knowing his tennis career could disappear at any moment, he played as if every point was his last. The author considers the match Federal and Nadal played in the Italian Open in 2006 to be their "second best in pure tennis terms." Again, Federer ends up losing after having 2 championship points.
Federer only had one full season ahead of everyone, in 2004, before Nadal started playing and the rivalry was born. Here's a tidbit on Nadal from the book: "In Nadal's 2011 autobiography, Rafa, his mother, Ana Maria, talks about how he had persistent anxiety about something bad happening to his family. He reminded his other to drive slowly on the way to Palma and to extinguish the fire in the fireplace at night, even calling from a restaurant to make sure it had been done." Roger played Rafa in the Wimbledon final in 2006 and 2007 and won them both. He said, "I'm happy for every one I get now before he takes them all. He's improving so much."
James Blake contrasted the pre-game styles of Rafa and Roger. Rafa was like a caged animal with headphones, taping his fingers, running sprints. Roger was calm and chatted with James like they were in a coffee shop. They both turned on the killer instinct to play, but Roger waited until he was on court to do so.
December 2007: Federer most likely picked up mononucleosis which affected his 2008, losing to Djokovic in straight sets in the semifinals of the Australian Open, later losing to Andy Murray in the first round of Dubai. He had been tested after the Australian Open and they found he had mononucleosis. That can be debilitating but Roger bounced back rather quickly. He was reluctant to mention it because he didn't want to detract from the younger men's wins.
Wimbledon 2008: He loses to Nadal in the final in what many consider the greatest match ever played. Clarey things Borg-McEnroe in the 1980 Wimbledon final, also Djokovic's win over Nadal in the 2012 Australian Open, and Goran Ivanisevic's victory over Patrick Rafter in the 2001 Wimbledon final.
Clay was Federer's original surface but he had never won a French Open until 2009, when Nadal had been knocked out early. Federer had beaten an exhausted Nadal in Madrid a week ago. But also, Nadal had learned his parents were getting a divorce in 2009 after the Australian Open and it just crushed him. He took it so hard. He was 22 at the time. They were "the pillar of my life," he said in his autobiography.
He describes the Australian Open final against Nadal in 2009 in detail. Federer loses and is crying at the trophy ceremony. He says it's killing him and what he meant was trying to give the speech was killing him. So when Rafael comes up and gets the trophy, he sets it down and goes over and puts his arm around Federer. So sweet. Federer explained later he didn't want people to feel sorry for him, nor did he want that when he lost to Nadal at Wimbledon in 2008. He didn't want to take away from the celebration of the winner. He was able to give his speech after Nadal consoled him: "I don't want to have the last word: this guy deserves it. So Rafa, congrats. You played incredible. You deserve it, man. You played another fantastic final so all the best for the season." Nadal refused to say he was gaining on and going to be better than Federer. He listed all the titles they each had and Roger was ahead of him in all areas at that point. Clarey realizes that Nadal was "fixated on process: He was much more about the thrill of the hunt than the satisfaction of the kill…To revel in surpassing Federer was not the point. The meaning was in playing each point."
Nadal says: "I love the competition, not only in tennis. I love the competition in all aspects of life. When I compete, I love to be there and fight for the win. Maybe, I like more fighting to win than to win."
Later on, Clarey informs us that Nadal wears a watch worth $1 million and bought an 80-foot yacht for about $6 million.
In 2009, Federer asked Darrin Cahill to be his coach but after a visit together in Dubai and thinking about it, Darrin refused, mainly because he always considered Federer to be Peter Carter's boy, and it would have been hard for him to coach Federer as the memories would have caused a lot of heartache for him.
In the 2009 French Open, Nadal played Robin Soderling and lost. I think it was in the 3rd round. The crowd was yelling "Ro-Bin" repeatedly. Nadal was hurt by the crowd's reaction. "I felt all the stadium against me."
Clarey explains that counting grand slam titles wasn't always how you counted greatness and he points out that you couldn't even get to Australia, except by steamship, before airplanes.
In the French Open final in 2009 against Robin Soderling, an intruder ran down from the stands and tried to put a hat on Federer's head. It threw Federer for a bit but he was able to shake it off and win his one and only French Open championship at age 27.
Federer reached out to Pete Sampras and they become good friends. Sampras is an introvert. He always liked the 2nd week of a slam when the locker room was empty. Playing tennis and all the social requirements was work for him. Social interaction drained Sampras. He says Federer is so personable and friendly and loves to joke and chat. It sounds like Federer kind of changed the atmosphere from aloof and unfriendly among the ATP players to the ability to be friendly yet still competitive.
Federer beats Andy Roddick in the Wimbledon final of 2009. That's when Federer took over Pete Sampras's record with 15 grand slam titles. Andy said, "Sorry, Pete, I tried to hold him off." Sampras won 14 in 12 years and 52 appearances, Roger won 15 in 6 years and 41 appearances.
Clarey goes into detail about the 2019 Wimbledon final against Djokovic, the heart-breaking loss because Federer was serving for the Championship and had two chances to win it. Federer said: "I just feel it's such an incredible opportunity missed." Where did it go wrong? "One shot, I guess. Don't know which one to pick. Your choice." When people compare it to the 2008 Wimbledon final he lost to Nadal, "This one is more straightforward maybe in some ways because we didn't have the rain delays, we didn't have the night coming in and all that stuff. But sure, epic ending, so close, so many moments. I mean, sure, there's similarities. But you've got to go dig, see what they are. I'm the loser both times, so that's the only similarity I see." The day after the loss, Federer and his family went on a camping trip.
After Roger lost in Indian Wells in 2018 to Juan Martin del Potro, despite having 3 match points, Clarey writes: "He has lost more than twenty times after holding match point, while Nadal and Djokovic have lost fewer than ten such matches." And, here's a quote from Gunter Bresnik: "I know it's bad to say this, but I sometimes call Federer an underachiever in tennis considering all the matches in big tournaments he lost being already up. The guy should be at thirty Grand Slam tournaments if you're talking about del Potro, Djokovic, Nadal, and all these matches he lost where he was clearly ahead."
"The reasons were unclear. His underlying sensitivity? His low margin for error? A bad habit that had become hard to break? "I think it's because his style is so offensive," said Paul Annacone, his former coach. "When he was younger and moved differently, he could get away with more. But now that he's older, he has to be more offensive against the great players, and that's tough to do in big, pressure moments. …"
In early 2020, after losing to Djokovic in the Australian Open semi-finals, he went on to South Africa to play the "Match in Africa" there, with Rafael Nadal, Bill Gates, and Trevor Noah. "He had started the charity with his parents' help and encouragement in 2004, the year in which he had first risen to No. 1 at age twenty-two."
"When Roger was starting to earn good money, we said, 'We think it's a good thing you give back a bit of your own fortune to those who are less advantaged,'" Lynette (Roger's Mom) told Clarey.