Visions, Lessons, and Gleanings
Vision #1 – God saved Adam
When Adam was 3 years old in 1985, I was newly-divorced from his Papa, living in Santana Apartments, and driving a huge, old Buick LeSabre. Adam's car seat was in the front seat and I'd plop him in the seat but never buckle him in. He used to sit in his car seat and kick his little legs against the glove box as I drove along. One day, while lying on my bed in our Santana apartment, I had a vision – this was not a dream–I was wide awake. In the vision, I was driving south on Lemay Avenue in the left turn lane near Prospect Avenue. A pickup truck in the right lane ahead of me abruptly changed lanes directly in front of me and I had to slam on my brakes to keep from hitting him. Adam was not buckled in and the vision stopped at that moment but it was clear he was going to be hurt very badly.  The very next day, when I put Adam in his car seat, I made sure I buckled him in. As we were driving south on Lemay Avenue about to reach Prospect, yes, a pickup abruptly changed lanes directly in front of me and I had to slam on my brakes to keep from hitting him. Because of that vision, Adam was buckled into his car seat and he was saved from being hurt. I never buckled him in before, but because of that vision, I buckled him in that day and prevented major injury to my precious son. That vision from God the day before was so powerful and real and saved Adam from being hurt. I've remembered this vision, especially at times when I feel maybe God isn't there and I want to lose faith in Him. Remembering this vision helps me keep the faith and comforts me. I realize how much God loves Adam and I know He has plans for him.
"For I know the plans I have for you," declares the Lord, "plans to prosper you and not to harm you, plans to give you hope and a future." Jeremiah 29:11
Vision #2 – God saved my marriage
My marriage to Wayne started off rough. I was mean and petty, jealous, suspicious, unloving, nit-picky. I used to complain about Wayne almost constantly to my friend, Jenifer. I don't know how she stood it and I don't know how Wayne put up with it. Satan was trying his best to destroy our marriage and I was being his ignorant tool, but God had other plans. On Christmas Eve 1990, Jenifer and I had been shopping together at Target and of course, I had been complaining about Wayne the whole time we shopped. I pulled into her driveway on Belgian Court to drop her off. It was already dark and she was getting ready to get out of the car but took my hand first and said, "Let's pray." I don't remember what she prayed because as soon as she touched my hand, a vision appeared in my mind: In the unfinished basement of our home on 319 E. Plum Street, Wayne was on his knees with his head bowed in front of Jesus. Jesus was standing in front of Wayne, looking down with His hands outstretched towards him, and so much love was pouring out of Jesus for Wayne that it blew my mind and melted my heart. How could I not love this man when God loved him so much! At that very moment, all of my petty complaints disappeared and my heart overflowed with love. That vision of how much Jesus loved Wayne saved my marriage and I have never, ever forgotten it. I was humbled and amazed. I told Jenifer what just happened and thanked her. I went home and told Wayne, and asked for his forgiveness. He graciously and lovingly forgave me, and we put the ugly past behind us and have considered that evening our true wedding date. Thank you, Jesus, for this vision of your deep, deep love for my husband that saved my marriage! Thank you, my dear friend, Jenifer, for putting up with me and for being the conduit of God's love that saved my marriage. Thank you, my beloved husband, for not holding the ugliness against me, for being patient, and for forgiving me completely and loving me.
And I pray that you, being rooted and established in love, may have power, together with all the saints, to grasp how wide and long and high and deep is the love of Christ, and to know this love that surpasses knowledge-that you may be filled to the measure of all the fullness of God. Ephesians 3:17-19
Oh the deep, deep love of Jesus
Vast, unmeasured, boundless, free
Rolling as a mighty ocean
In its fullness over me
Vision #3, God prevented me from talking about Him at the wrong time to my sister, Cheryl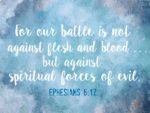 In 1995 or 1996, my sister, Cheryl, was becoming more and more paranoid and depressed. At one point, she was convinced her neighbors were spying on her and planning things against her. One night, she disappeared, and Chris had to call the police to find her. When they found her, they put her into Mountain Crest hospital for a watch period. Filled with my renewed faith in God, I wanted to talk to her about God and convince her that He was the answer to all of her problems. But unbelievably, God did not want me to do that, and He gave me two visions regarding Cheryl. The first vision was just how very, very close all of us are to having some type of mental illness. It would only take one iota more or less of something, and we would all be mentally ill. This gave me a compassion for Cherie I had not felt before. The other vision was a direct command from God NOT to speak to her about Him at this time; not to mention His name to her at all. What we found out later is that Cherie had been dabbling in and experimenting with witchcraft at this time due to the influence of her mother-in-law, who was a pagan witch in San Diego. What God told me in this vision was that, because He is Spirit and this witchcraft was spiritual, to speak to Cherie about Him at that time would have forever associated Him in her mind to this dark spirituality and that would have prevented her from ever coming to Him. So, I told Wayne and my Mom about these visions, and rather than preaching to her about God at this time, we just loved her. What happened a decade later, in 2006, showed me how important it was to NOT talk about God to Cheryl at this time.
For our struggle is not against flesh and blood, but against the rulers, against the authorities, against the powers of this dark world and against the spiritual forces of evil in the heavenly realms. Ephesians 6:12
Vision #4, God showed me what happened as Cherie died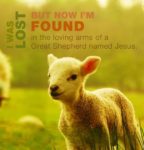 On February 17, 2006, my sister, Cheryl, committed suicide. That was a bitterly cold Friday night. We didn't find out until Sunday. Her husband, Chris, called. Cherie had been living separately from Chris and Tyler for a few months and she had not answered the phone nor come to the door. Chris called the police and they broke down the door and found her dead in her bed. She had left a note and a will. The autopsy found she had taken all of her anti-depressant medication at once. My main concern was for my mother as now she had lost two of her four children. My brother, Steve, had died at the age of 29 in a single car rollover accident, in August of 1985. I felt very guilty over Cherie's death. I had not gone to visit her in her last two rental places. I had often been angry at her, at how she smoked pot every day and how she was not caring properly for Tyler. I had always been very judgmental of her, instead of loving. And it was as if she had felt every unkind thought and word I had of her. I deeply regret not loving her better while I had the chance. About two months after she died, I was jogging around the CSU track, and the following vision popped into my mind:  Jesus showed me that as Cherie lay dying in her bed that night, two voices were calling to her; one voice was that of Satan and the other voice was that of Jesus. Jesus told me, "She came to Me, and she is with Me." What a comfort to know this, that she recognized the voice of her Savior and went to Him and is in Heaven in His loving arms. Pastor Tim from my mother's church, where Cherie's funeral was, met with the family soon after Cherie's death and lovingly told us that suicide is NOT the unforgivable sin. My Uncle Marvin gave the message at Cherie's funeral and here is the verse he chose for it:
For I am convinced that neither death nor life, neither angels nor demons, neither the present nor the future, nor any powers, neither height nor depth, nor anything else in all creation, will be able to separate us from the love of God that is in Christ Jesus our Lord. Romans 8:38-39
What happened on June 30, 2018?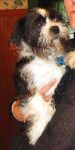 Wayne and Javier went to a fishing tournament for children at Trapper's Lake, where Pearson's live (put on by Denny and other homeowner's). I was home and so was Odi, Jenifer's little doggie. Brian and Jenifer followed us home from Oregon because Daniel was in the hospital after a stroke. They were staying with us in our basement. We had arrived home only a few days before, on Wednesday, June 27th, in the evening. This was Saturday, June 30th. I asked Brian if he wanted to leave Odi home with me while he visited with his family in Loveland. He took me up on it. Unfortunately, Odi was pretty upset because Jenifer had stayed the night at the hospital in Denver so none of his people were with him. When Javier and Wayne came home from the fishing tournament about 1:00 p.m., I opened the front door to greet them, and, at the same time I realized Odi was going to run away, he was out the front door and gone. Wayne chased him in the car and hopped out and managed to get him back to our driveway and near the backyard but Odi dodged him and took off again. Javier and I frantically searched around several blocks and through the alley calling his name to no avail. I talked to a few neighbors and asked them to keep an eye out, and also put an alert on the Nextdoor Old Town East email. Then I called Brian to let him know we lost Odi.
Wayne, Javier, and I prayed that God would help us find Odi and that He would protect him. We did this together in the backyard. Wayne and Javier went to go practice a little tennis. Rebekah called me from the hospital in Denver. I told her Odi had run out the front door and was missing. She said a lady named Theresa had called them and they had Odi and he was safe. She gave me the phone number and I called Theresa. They live on 320 East Magnolia and they had Odi! At the same time Brian was coming home, I was leaving to pick him up, so I let him know and he followed me to 320 East Magnolia. This house is an adorable, well-kept home with a white picket fence around it. I often walk Jojo by it and one day a year or so ago, met the owner, an elderly man, and his little tiny dog, Gigi. He had told me he named her Gigi because his wife's favorite movie was Gigi. Soon after that, I got the movie, Gigi, from the library and watched it and enjoyed it. Well, he and his daughter, Theresa, had found Odi in their driveway and were able to put a leash on him and get him inside where they read his tags and called Jenifer. They also fed him some sausage. Odi had made it across Mulberry Avenue to these wonderful people who both had been through experiences like this themselves so were very compassionate and understanding. I walked by 320 East Magnolia a week or two later with Jojo and the gentleman was out front. I thanked him again and found out his name is Don (same as my dad's name), his birthday was June 30th (same as Adam's and that was why his daughter was over that day), and he had turned 82 on that day. Eternally grateful for he and his daughter. They were God's answer to our prayer.
All of this happening while Javier expressed things that day like, 'Everyone in my family believes in God, I think.'  That led to a discussion of heaven. He asked, 'Won't it be boring in heaven since all of our questions will be answered?' That led to another discussion and Wayne talked about how being bored is a symptom of being dissatisfied and we will be completely satisfied in heaven so would never be bored. Later on, when Wayne and Javier were in the car to play tennis, Javier asked if you killed a lot of people and then asked God to forgive you, would He? And, when we talked with the rest of the family later that evening after dropping off Javier, and I told them about the question Javier asked about won't heaven be boring with all our questions answered, we were discussing that and Isabel said, 'God will be with us.' Wonderful faith growing there and so thankful God answered our prayer to find Odi. Thank you, God!
God's present to us for our 60th birthdays – August 17, 2018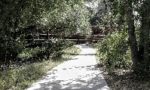 The morning of August 17, 2018, I gave Wayne the following note:
"Going for a ride – your route – should be home 1 1/2 hrs. Christie at 11:15. LOVE YOU!!!"
He was on the phone with Tom Sheill, Garfield house painter from decades ago, the brother of Dave Sheill, our Plum Street house painter from almost 30 years ago. They were discussing whether or not Tom could provide a quote to paint the trim on our house, which is starting to show signs of wear after almost 30 years. I didn't want to interrupt him and didn't want him to cut his conversation short so handed him the above note and went on my bike ride.
Wayne's route is south on Remington to the Spring Creek Bike Trail, east on that trail passed Edora Park, underneath Prospect Avenue, and then onto the Poudre River Bike Trail. When that trail nears Lemay Avenue, Wayne takes the bridge over the Poudre River and continues on for another 3 1/2 miles or so and then turns around and comes back the same route to make a 20-mile bike ride. I knew I wasn't going to go that far but hadn't yet decided where I would go once I made it to the bridge. Right before I got to the bridge, I decided to continue on it for another mile, then head home. Well, as soon as I was pedaling over the bridge, I looked down and there was Wayne pedaling towards me on the bike trail. He hollered, "Jeanne!" and I cried out something like, "Oh my God! I can't believe it!"
If he had been a second or two later down the hill from Lemay, I would have already been across that bridge and around the bend and lost to his sight. Only in that 2 second window could he have seen me. What a miracle! It turns out, he had prayed as he was going down the hill from Lemay Avenue that he would find me at that exact spot. And he did! Thank you, God! What a perfectly wonderful and amazing birthday gift for our 60th birthdays!
BRANDON! 4-12-19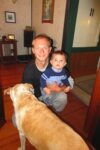 God answered our prayer for Brandon the very next day – everything "flipped" for him the very next day! Thank you, GOD!!!!
Last Thursday, 4-4-19, Brandon stopped by with a gas can. He was very angry, very frustrated, very negative, very tired, very hopeless. Job troubles, relationship troubles. Every time he tried to do something right, he would wind up getting the opposite – put in jail for violating restraining order, etc. He was ready to give up. He was in a dangerous place. Wayne took him to get gas in his gas can and told him we would pray for him and when Jeanne prays, stuff happens. Today, 4-12-19, he stopped by with his baby boy (2 year old Ryan Viney) and he was as happy as can be! His little boy in his arms, a newer car. We watched his little boy toddle around the house, kiss Jojo. As they left, Wayne walked them out to the car, and Brandon told Wayne that the day after he came over last week, everything in his life "flipped." We thank you, God, with all our hearts! We specifically prayed that Brandon would have hope and encouragement, and that is clearly what he has now. Thank you, God! You are AWESOME!!! It was precious to see how his baby boy loves him and feels completely secure in his Daddy's arms. Thank you, thank you, thank you, God, for answering our prayers for Brandon!
Philippians 4:6 Do not be anxious about anything, but in everything, by prayer and petition, with thanksgiving, present your requests to God.
Psalm 37: 24 though he may stumble, he will not fall, for the Lord upholds him with his hand.
June 18, 2022
What happened June 18, 2022? Bruce and Elisabeth's annual summer party. I was crushed to find out that Elisabeth is an abortion doctor several days a week at our local Planned Parenthood. Other days she is an Obstetrician in Denver. "Kill it, Let it live" is what she said. Nancy and Jamie brought up the topic, asking how she was doing, she must be busy now, it must be rough. This was shortly after the Supreme Court overturned Roe v. Wade. I think I said something like, "There are so many people who want babies and can't have them, there would be a loving home for them." I left the party with a sick, empty, hopeless feeling. I walked down our driveway to the back gate and, lo and behold, a screech owl was sitting on our bird bath. I had my phone and took a few pictures of him. See below, right. This little screech owl was God's gift to me. His message that He is there, He understands, and everything is going to be alright. He was telling me He loves me and I'm okay. We had not seen the screech owls before and, it turns out, we did not see any again after this night either. Thank you, God!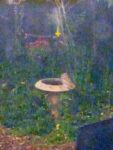 This is my abortion story, it's horrible and I deeply regret it. When I was 17, 1976, a senior in high school, I was pregnant and Manu was the father. He was living in Salt Lake City, Utah, and I was living on Moffett Drive with Mom and Dad and Cherie and Laurie in Fort Collins, CO. Manu used to visit often. I got pregnant, probably in December of 1975. I was sick every morning. I finally told Mom and Dad in April of 1976, so about 4 months pregnant. Mom was sick from an infection caused by an IUD. Abortion had become legal in 1973. Mom could not face the idea of a baby in the house. She insisted I have an abortion. Dad said nothing, Manu said nothing. There was no Alpha Center yet. I went to a pastor at First Baptist Church for advice. He said nothing. Mom made an appointment with Dr. Harling. He performed the abortion, but this was the worst kind because I was so far along. It was done in the hospital. I think he injected salt water in the womb and the baby dies an agonizing death and you go into labor and actually have the baby. Oh God, forgive me!
If abortion had not been legal, I never would have had one. It is my deepest regret. When I was pregnant with Adam in 1981-1982, and then when he was born on June 30, 1982, I realized what I had done. God has forgiven me and my little one is in heaven, and I believe all the aborted babies are with Him in heaven. My Mom has asked me many times to forgive her, and I have.
My prayer is that God would change hearts – those that believe abortion is okay would realize what it truly is: murder. Amen.