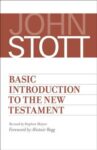 by John Stott, 1951, revised by Stephen Motyer, 2017
He covers the books of the New Testament (except Jude), giving the history of the authors, the culture and context in which written, and the message. The message, over and over, is that salvation comes through Jesus, not through works. I started out loving this book but it irritated me when he felt it necessary to state when "scholars" doubted the authorship, especially of John and his letters, and 1 and 2 Peter, and Revelation. Still, it was a good book and I tagged many, many pages. Here are some of the highlights:
Mark was probably the first Gospel written. He left Paul and Barnabas on their first mission trip, and this deeply upset Paul. No reason was given but Mark was fearful and he emphasizes the fear the disciples felt in his Gospel. He later became the companion of Peter and Paul, so Paul forgave him later on. Conflict is central to Mark's gospel, especially the conflict between the Pharisees and Jesus when he associates with sinners, and rewrites the rules regarding fasting, the Sabbath, and healing.
Matthew is longer than Mark and contains about 600 of the 662 verses of Mark. Matthew emphasizes the Kingdom of heaven in his Gospel. Matthew was a Jew but he was also a tax collector so was despised by other Jews. His being a disciple shows the forgiveness and love that was present among Jesus' disciples.
Matthew alone quotes Jesus as saying to the Pharisees on two different occasions, "I desire mercy, not sacrifice." Matthew shows that Jesus is the one who decides the mercy and He is the "sovereign interpreter of Scripture."
"The Pharisees were legitimate teachers, but their message was lifeless and deathly to all who followed it."
He summarizes Matthew's message under these 5 headings:
Jesus is the fulfillment of the Old Testament, especially when it comes to the Law–Jesus is the authority and is the fulfillment of the Law, Matthew shows.
Jesus is the King!
Jesus is the Son of God!
Jesus is the teacher, the Christ!
Jesus is the Savior, the Son of Man! "Matthew's Gospel is certainly that of the ruling King…But this King is different from all others. He does not rule with distant authority and live in separate splendor…He rules as a servant, not with power but with compassion, not in self-protection but in total self-giving. This is the beating heart of Matthew's Gospel message–the message which drew him from greed and self-service into the life and service of this king."
Regarding Luke, Luke was a Gentile. "In fact, he was the only Gentile among the New Testament writers." Luke wrote the Gospel of Luke and also the book of Acts. Luke's special themes are the outpouring of the Holy Spirit on both Jews and Gentiles: "dramatic and wonderful news;" Jesus' love and concern for the people on the "fringe" of society: women, the sick, the unclean (lepers, Samaritans, tax collectors, prostitutes, criminals); the importance of prayer: "He presents Jesus as one who was constantly at prayer, and whose whole ministry was shaped and guided by a deep awareness of inner communion with God his Father."
Luke shows that God is in charge of history, "From creation (Luke 3:38) through to final judgment (Acts 17:31), he is in charge." Luke and Acts show that no matter the problems we see, or the strength of the enemies, "God will bring about the fulfillment of his plan."
"Discipleship means being on the move, with him, leaving behind security and home (9:57-62) for a life of faith, prayer, obedience, and sacrifice in reaching out to those in need."
In describing Paul's first missionary journey in Acts where he witnesses the Holy Spirit being poured out on Gentile believers, "The Holy Spirit seems to demand only that they believe in the Lord Jesus. They are not required to become Jews as well."
Paul's letter to the Galations, written about this time, "is a passionate defense of the view which also prevailed at the Jerusalem conference–that our "justification," or acceptance before God, depends not on our obedience to the law, but solely on Christ, to whom we are united by faith."
Then, he goes through John and his letters. It upset me that he even brought up that some scholars think a later John wrote these books.
Then he goes through all the history and letters of Paul. Grace is the key theme in Paul's life and writings. "It is the essence of Paul's doctrine of justification by faith that there is now just one way of salvation for all–faith in Jesus Christ. So Gentiles do not need to become Jews in order to be saved. Rather, both Jews and Gentiles need to give up their previous religion and become Christians."
"Keeping his word to Israel does not mean affirming Israel's understanding of her Law. She has great zeal for the Law, but actually fails to understand it. In particular, she fails to see that Christian faith is the fulfillment of the Law. This is because Christian believers, both Jews and Gentiles, display the transformation of heart for which the Law always longed, usually in vain."
"Justification is instantaneous. As soon as any sinner turns from his or her sin and commits himself or herself to Jesus Christ who dies for them and rose again, God pronounces him or her "righteous.""
"But sanctification is the process which then begins–by which the sinner is gradually transformed into the image of Christ (2 Corinthians 3:18)."
God sanctifies us through His Holy Spirit living inside of us.
Regarding Hebrews, Luther's best guess was that Apollos wrote it. "The message of Hebrews is uncompromising. To a world and a church which are tempted to say that many paths lead to God, and that Christianity is simply one religion among many, the author of this letter issues a sharp rebuttal. To take that view is to deny what God has done for the world in Christ. At whatever cost–even to the shedding of their own blood (12:4)–the author urges his readers to hold on to the uniqueness and finality of Christ, who has gone through shame and death to the right hand of God. We need to hear him today."
James was written by one of the brothers of Jesus, who went from unbelief to belief and was a leader of the church in Jerusalem. James "was anxious to enable his fellow Jewish Christians to accept these Gentile converts into one fellowship."
The book of James is considered the earliest written of the New Testament. It is believed to have been written no later than AD 50 and as early as AD 45.
It emphasizes practical obedience. Paul emphasizes grace through faith, James emphasizes works, "But this is a difference in emphasis, not in message. And the reason is not far to seek. Each had a different set of false teachers in mind. Paul's opponents were the Jewish legalists, while James' were the Jewish aristocrats (like Ananus). The legalists' way of salvation was "works"–moral and ceremonial acts performed in obedience to the law. The aristocrats' way of salvation was "faith," that is, mere orthodoxy of belief, bare adherence to Judaism without any clear practical obedience.
"To the legalists Paul argues that we are justified not by our own good works but through faith in Christ. To the aristocrats James argues that we are justified not by a barren orthodoxy (which even the demons possess–"and shudder," 2:19), but by works, especially care of the needy. Paul, however, is swift to add that the faith which saves issues inevitably in good works (Ephesians 2:8-10, Galations 5:6), while James affirms that the works which save spring naturally from a true faith (2:15), and the absence of good works reveals the absence of true faith (2:17)."
"We cannot be saved by works, yet neither can we be saved without works. The place of works is not to earn salvation but to evidence it, not to procure salvation, but to prove it. The reality of our faith is revealed in the quality of our life: and in this Paul and James wholeheartedly agree, pointing rightly to Abraham who trusted God's promises, and therefore obeyed God's command."
In Peter, we see the reason for suffering (Christ suffered) but we have hope because of Christ's suffering. Peter wrote to people who were beginning to suffer as a result of their faith.
Peter's message is:
The example of Jesus
The reason for Jesus' suffering (to atone for our sins and bring us to God)
Being God's people (strangers in the world but chosen by God). "So Christians need not be afraid. God is building a house, based upon Jesus the cornerstone, and all those who belong to him are like "living stones…being built into a spiritual house to be a holy priesthood…"
Living in hope
Being holy, doing good
Regarding Revelation, here is the last paragraph of the book:
"The message of Revelation is powerful indeed. It centers on the vision of the Christ who shares his people's suffering and death and then shares the throne of God. It points us beyond the chaos and trauma of world history, and of our own lives, to our security in God's plan both for us and for the world. It takes evil seriously, but God even more so. It horrifies us with its stark portrayal of death and evil, then raises our spirits to heaven by putting on our lips works of the most wonderful praise. As we sing with the heavenly hosts, we know that the powers of evil have been defeated, and we are redeemed: "Salvation belongs to our God, who sits on the throne, and to the Lamb!" (7:10)."
AMEN!!! COME LORD JESUS COME!!!